A CI culture is a critical component of any successful business. Leaders play a crucial role in ensuring that it is integrated into the company culture at all levels.
Creating a CI Culture requires a deliberate effort to establish a pattern of thinking and behaviour that encourages everyone to participate in the continuous improvement process.
Leaders need to create an environment where continuous improvement is seen as an integral part of every role and every level of the organisation. This starts with a clear vision and setting expectations – all the domain of our leaders. It is perpetuated by fostering a culture of openness, collaboration, and learning. Leaders should encourage their teams to share knowledge, experience, and ideas freely, and to be willing to challenge the status quo and experiment with new approaches.
Setting expectations and a clear vision
Leaders should ensure that every employee understands how they contribute to the strategic objectives of the organisation. It is important to consider the best way to communicate this information and ensure it is cascaded to every level.
Tier meetings are the perfect opportunity for individuals to review their progress and giving leaders clear visibility on team performance. There's also ample room to foster a sense of collective achievement, boosting morale and motivating employees to keep making valuable contributions.
Tier meetings should be performed routinely and be centred around key pillars of a teams function and responsibilities. Organisations may have variations, but the typical tier structure looks like the below: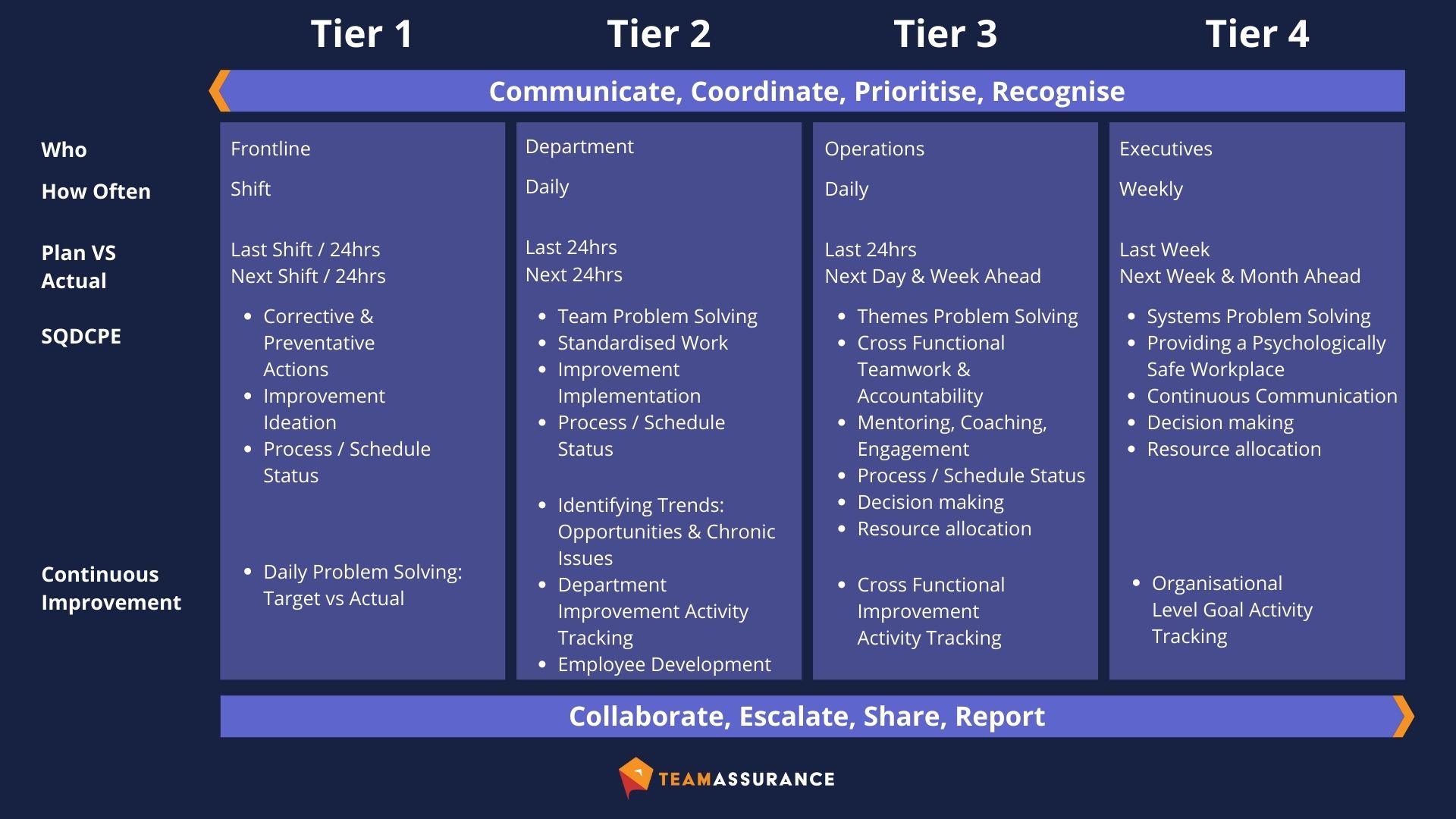 When supported by the broader daily management system – particularly a digital DMS – every teams can call on a range of extra tools to capture this information and act on it. The video below demonstrates this in practice:
Training and development play a significant role in CI culture
To be effective, continuous improvement needs to be underpinned by a clear set of principles and philosophies. Leaders should ensure that these are communicated effectively through training, development, and coaching. This will help to ensure that everyone has a shared understanding of what continuous improvement means, and how it can be integrated into their daily work.
Leaders have a critical role to play in coaching and mentoring their teams to help them identify areas for improvement, and develop strategies for addressing them. This involves giving people the space and time to take ownership and responsibility for their work, and providing the guidance and support they need to succeed.
Skills management tools, like the skills matrix, are a quick (but powerful) way to make training and certification visual. It provides the confidence leaders need to let teams operate autonomously and even allows staff to take ownership of their own learning pathways.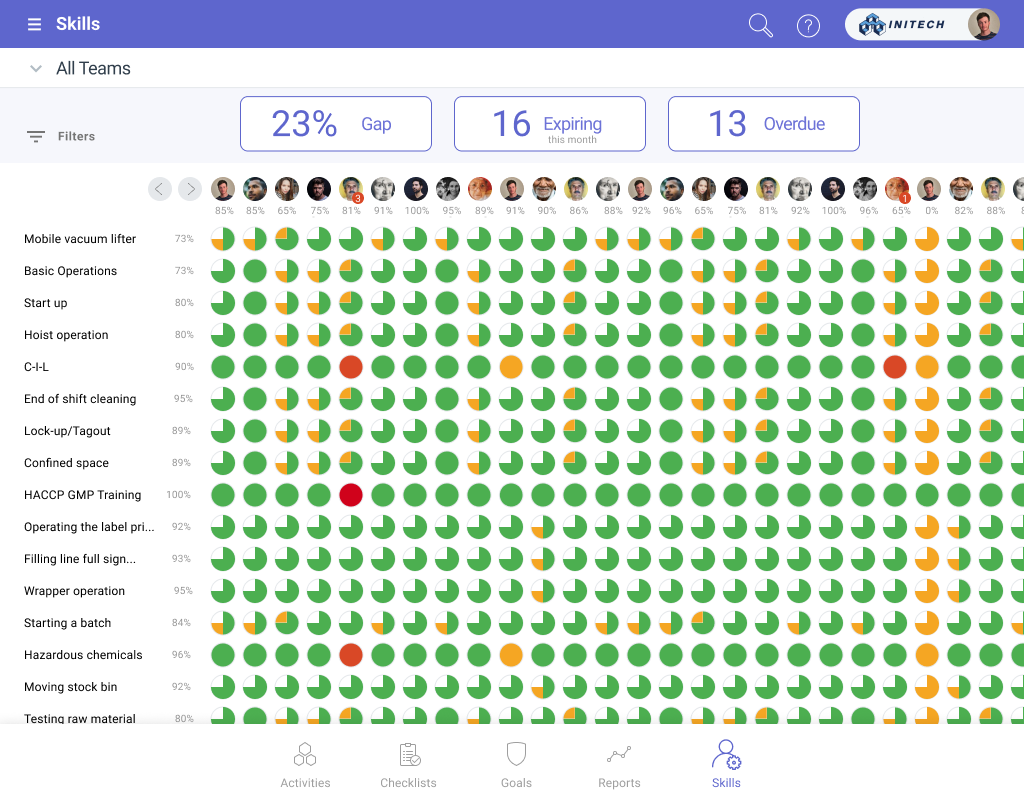 Digital skills matrices capture information in real-time, enable proactive alerts to expiring certifications and provide interactive notes for robust 1-to-1s – things physical tools just can't match.
---

---
A CI culture allows people to experiment and make mistakes
Continuous improvement is not just a buzzword, it's a way of life. Organisations that foster a culture of openness and collaboration are the ones that will succeed in the long run. Leaders have a critical role to play in creating an environment where everyone feels comfortable sharing their ideas and experimenting with new approaches.
This means giving people the permission and support they need to think outside the box, challenge the norms, and test new ideas.
Ultimately, the goal of continuous improvement is to make it an integral part of the culture of the organisation. This requires a sustained effort from leaders at all levels to promote a culture of openness, learning, and collaboration.
By creating an environment where everyone is encouraged to participate in the continuous improvement process, leaders can help to drive lasting change and ensure the ongoing success of their organisation.
A Connected Framework For Leading With Lean
Keeping the this top-of-mind, leaders can foster continuous improvement activity as BAU for every role. They can implement effective communication mechanisms, and empower everyone to contribute towards strategy deployment. This CI culture is key to efficiencies in daily operation, and to achieving long-term success
Lean is not just a set of isolated tools and techniques – it is a way of thinking and a way of working that requires connection, commitment and dedication from all levels of the organisation.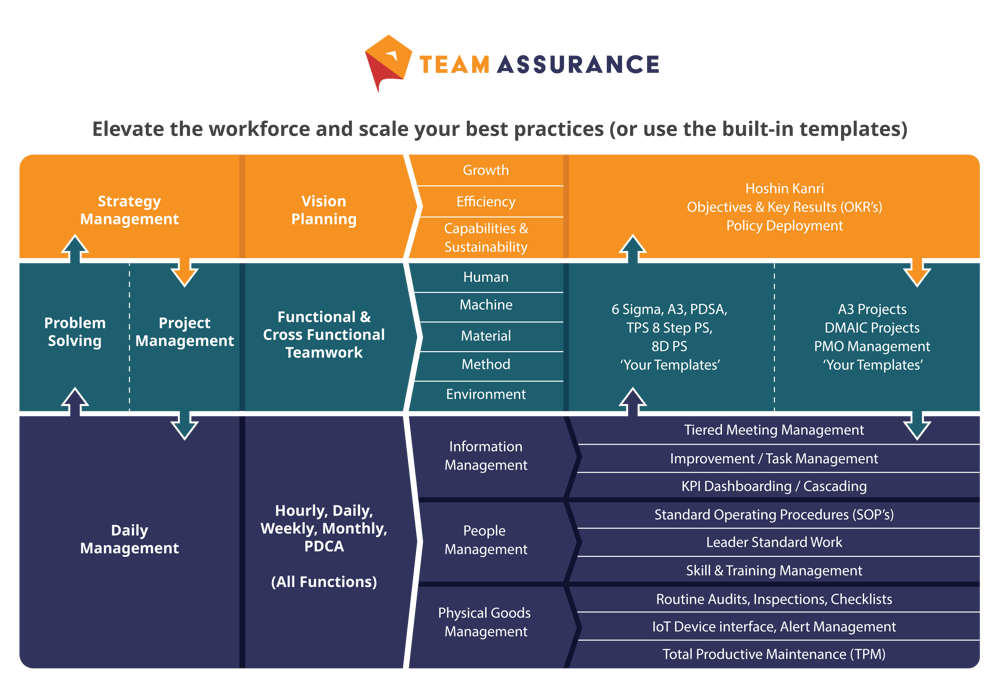 If you're an organisation in need, or a consultant with clients in need, and you'd like to explore the opportunities that digital-aids to Lean tools provide – contact us for a demonstration of the TeamAssurance platform.