When we researched checklist systems, we identified seven areas that lean teams struggled with. This research, combined with our own experiences in manufacturing and healthcare, highlighted the need for a tight integration between a checklist and its actions. Today we're introducing Checklists into TeamAssurance. TeamAssurance Checklists will close the loop on every checklist action and improve time to resolution.
Introducing TeamAssurance Checklists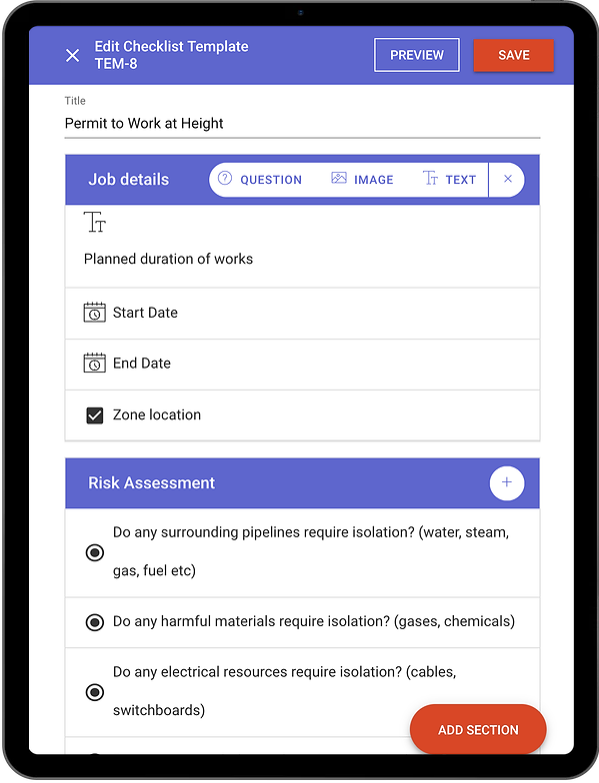 Simple template setup
Templates are customizable forms that can be setup in minutes.
Drag and drop
Copy a question or whole sections
Add photos
Multiple-choice, multiple-select, photo, date, text…more
Preview – Save – Schedule. Done.
Integrated checklist action tracking
Non-conformances can be set-up to trigger an action during the inspection. Whoever is assigned the checklist action is notified before you've even finished the inspection.
Checklist actions are automatically added to the Activity list, and immediately visible to the relevant team. This integration with daily management ensures that nothing goes missing, and nothing gets forgotten. These activities are treated the same as any other activity, and are handled according to the priority and status in the flow of daily tasks.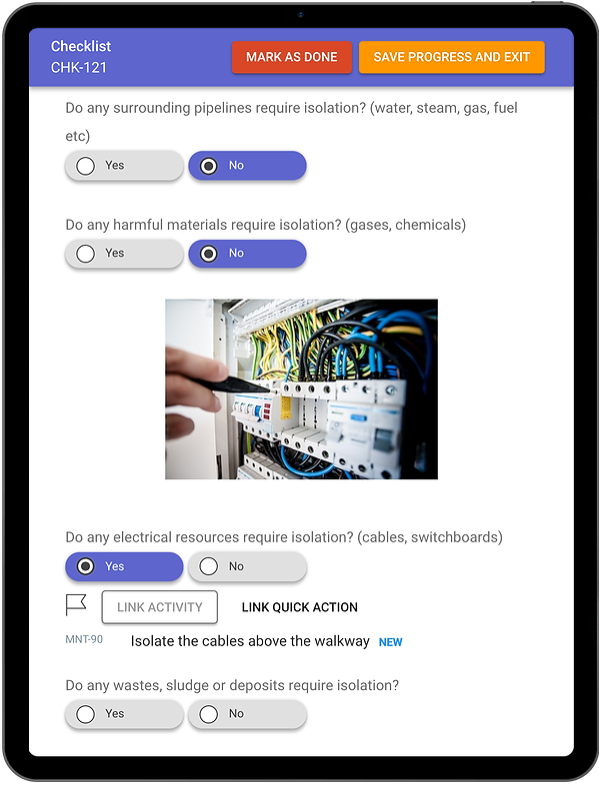 Every checklist action on a single page
See all non-conformances and CAPA – across all checklists – in one view. Expand the row to see only the most relevant information, or dive into the completed checklist for full details.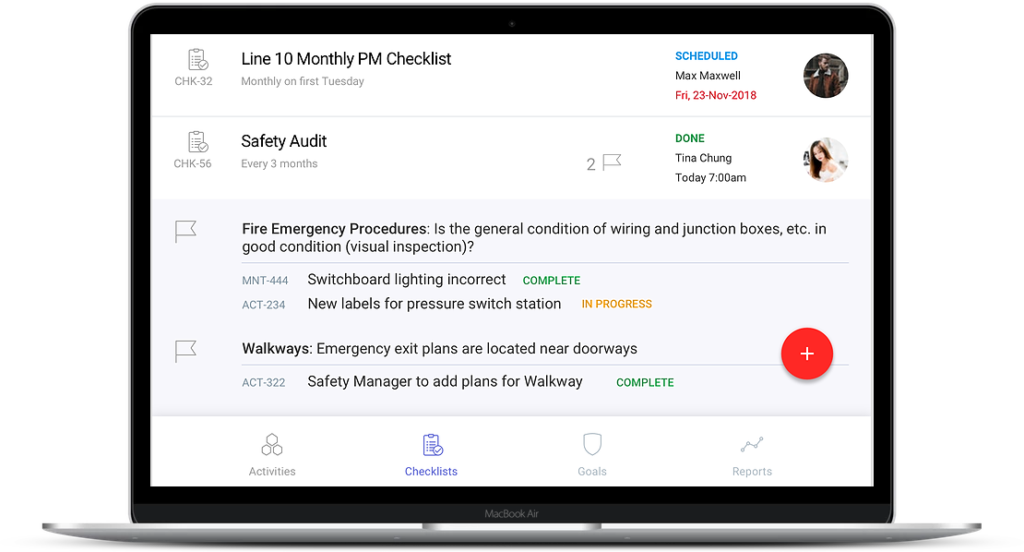 Checklists for Safety, Quality, Maintenance…
We've had some wonderful customers providing feedback on a preview version of Checklists (thank-you!). And we've been amazed at how quickly they've improved their processes across the board. A few examples of checklists they've created include;
Cleaning, inspection and lubrication (CIL) checklist
Workplace safety inspection checklist
Gemba walks
Preventative maintenance (PM)
New Product Introductions (NPI)
Scheduled internal audits and supplier audits
New employee checklists
Part of a C.I. Framework, not a locally optimised 'Island'
For a process to not thrive (and to be sustained) it must be supported by, and connected to, adjacent processes and systems. Core Lean tools like checklists mentioned here, and other tools like Leader Standard Work must be supported by standardised problem solving techniques and a Tiered Daily Management process that can handle the full PDCA loop.
The diagram below shows how we designed an interconnected platform that avoids the locally optimised and disconnected 'Point Solutions' (digital or analog) which do not help, and may even hinder your progress towards the organisation's continuous improvement goals.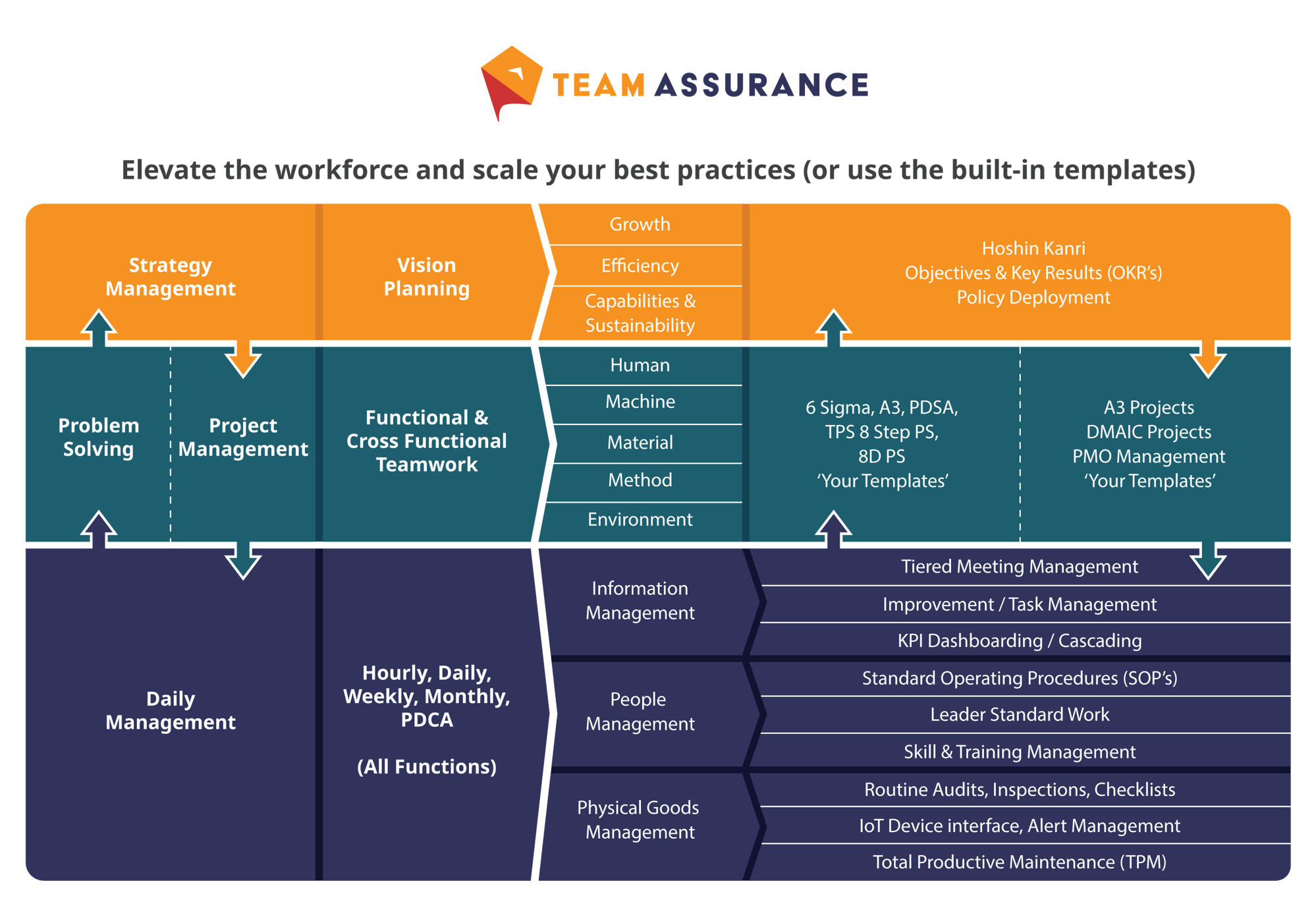 TeamAssurance Checklists, integrated with action tracking, ensures fast and measurable closing out of issues. If you're a business in need, or a consultant with clients in need, contact us for a demonstration of the TeamAssurance platform today.