Following lean thinking principles and processes requires discipline. Here we discuss the structures and elements involved in maintaining discipline for long term success.
Lean is all about simplicity. It is about creating a workplace where the process flows, people are engaged, and leaders coach. We want to enable a particular way of thinking and ensure there is clarity on who we are and where we are going. To some this seems like a pipedream, far removed from their current situation. But, it is possible and can be achieved in a relatively short period. It just takes time, patience and most importantly discipline.
Lean thinking requires discipline
As business leaders (and human beings) our default position is to look for the quick fix to any problem. How do we remove ourselves from the discomfort of doing things that we don't like or don't provide a tangible reward immediately? The reality is that any change or improvement initiative takes time, it takes patience and ultimately it takes discipline.
Discipline is the ability to show up consistently to do the work that needs to be done. It is the ability execute what has been committed to each and everyday – especially when it is difficult. Our process environments are constantly demanding. They take time, energy and resources; often the demands compete mercilessly for attention. However, the moment that what we're focussed on slips out of the spotlight, at the expense of something else, it becomes difficult to maintain and recover.
Lean tools if nothing else demand discipline in order to stave off the chaotic, reactive nature of both day-to-day and strategic elements of our process. Lean tools are simple and steeped in common sense in concept and in practice. These tools are designed to develop habits and promote exposure through repetition, practice and refinement. Lean tools rely on that practice and repetition to happen every day in a consistent and standardised way to be most effective.
The nature of continuous improvement is that it is incremental – similar to compound interest in your bank account. The difference seems insignificant day to day but it adds up and gains momentum over time. If we are not adding to that regularly then it will simply not grow – and quite the opposite. If we lack the discipline to execute and focus on improvement every day then the practice can't happen. Our form simply cannot be maintained.
---

---
The leaders' role in setting lean thinking and discipline standards
When I talk of discipline I am really talking about the ability of leaders to articulate the systems, and processes to be used, as well as the expectations of performance and behaviour. Effective communication ensures that we maintain consistency and adhere to the standards set as an organisation. The leaders' role in this is twofold:
They must adhere to structure and standards that enable them personally to fulfil the function and scope of their own role.
They must support and verify the structures that enable performance and improvement within their team and direct reports.
This process starts with self-discipline or self-management. If we are unable or unwilling to control the things directly within our influence then we will struggle to achieve anything beyond the immediate or urgent. Leader standard work, as outlined here, is often the foundational tool that forms the backbone of a leader's day. This must be well-considered and strategically-focussed to incorporate the day-to-day as well as leave room for reactive and strategic activity. That way a leader has a checklist to follow that provides the structure for a disciplined approach.
Further defining discipline
Discipline is the ability to execute consistently on things such as:
Being on time;
Following the standard;
Sticking to the agenda;
Do what you say you will do;
Maintain your commitments to a plan;
Escalating items;
Prioritising the standards and structure even when there are competing demands.
Over time, with discipline comes freedom. We achieve liberation from activity that is trivial and create space to focus on proactive, value-adding behaviour. This is achieved incrementally through a combination of established boundaries, a clear focus, and commitment to investing effort on the 'right' things.
Think of a time where a significant long-term goal was important for you – it didn't just happen. It took some planning, some trial and error but ultimately it took an approach where you were required to follow a routine. That routine enabled you to work toward that goal one small step at a time. That discipline may have been following a budget, a diet plan, or an exercise routine. It may have required study or early mornings – whatever it was, it was only possible to achieve something worthwhile by sticking to and refining a plan or a structure.
Discipline is also not about beating ourselves up when we miss a day or a step. It is important we have a wider perspective knowing that we are not perfect – slip ups and misses will occur from time to time. Discipline is about ensuring we are clear on what is important and meaningful. It is about committing to a plan to achieve our objectives by holding ourselves accountable through structure and process.
Creating an Interconnected  C.I. Framework That Embeds Discipline
Aligning ourselves, our teams, our processes, and our systems is key to maintaining discipline. Lean tools like standardised problem solving techniques, Standard Operating Procedures (SOPs), and a Tiered Daily Management process that supports the entire PDCA loop allow us to set and maintain effective routines. To achieve this, these tools shouldn't be developed in isolation. We must consider how each adjacent process influences and supports those related to it, ensuring nothing is missed and optimising our workflow.
The illustration below demonstrates how we designed the interconnected TeamAssurance platform to avoid locally optimised, disconnected 'Point Solutions' (digital or analog) that do not help, and may even hinder your ability to effectively implement a continuous improvement mindset and discipline.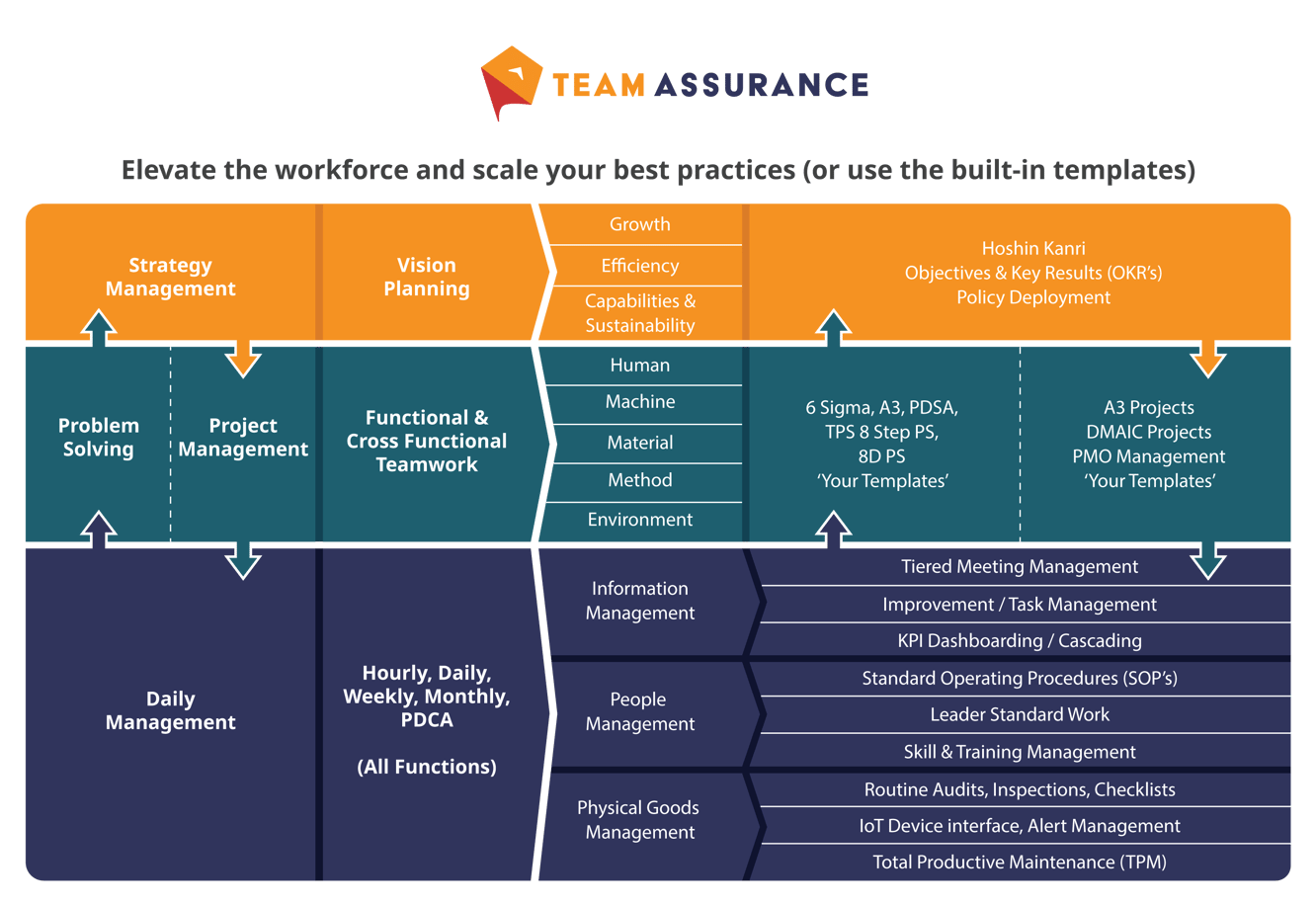 If you're a business in need (or a consultant with clients in need) and you'd like to explore the opportunities that digital-aids to Lean tools provide contact us for a demonstration of the TeamAssurance platform today.