There's a good chance you already use scoring in your Checklists. It's a simple yet powerful way to track performance over time. As common as Checklist scoring is, each company has their own style when it comes to how the question and answer sets are structured. Some prefer Yes/No answers and others a 1 to 5 system. We've been deliberate in maintaining "simple flexibility" when introducing Checklist scoring, to suit all styles.
How the scoring works
As the Checklist questions are answered, a score will be displayed plus a subtotal for each Section and a Total score. This running tally continues until the Checklist is completed. Of course, some answers will prompt for a follow-up Action. These Actions are assigned and tracked to ensure the issues are always resolved and nothing is forgotten.
How to setup Checklist scoring
Scoring is an optional setting available on multiple choice questions. There is flexibility to construct the answer sets to reflect your organization's style. Once scoring is enabled, each answer option for a question is given a score. These scored questions can be made mandatory, which will require the user to answer the question before they move on. If the scoring needs to be changed at the template level, then an Admin User can simply edit the template. Then the next Checklist will pick up the new scoring.
---

---
Plus all the existing Template benefits
Create new Templates on any mobile, tablet or desktop device. When you want to change the order of questions, simply drag-and-drop. You can even reorder entire Sections using drag-and-drop. And instead of rewriting similar questions over and over, save time by using the Copy Question feature.
This option is now available on Checklists.
Part of a C.I. Framework, not a locally optimised 'Island'
For a process like the checklist scoring to not only be sustained, but to thrive, it must be supported by and connected to adjacent processes. Core Lean tools like checklists, and Leader Standard Work must be supported by standardised problem solving techniques and a  Tiered Daily Management process that can handle the full PDCA loop.
The diagram of the TeamAssurance platform below shows how we designed an interconnected platform that avoids the locally optimised and disconnected 'Point Solutions' (digital or analog) which do not help, and may even hinder your organisation's main goal.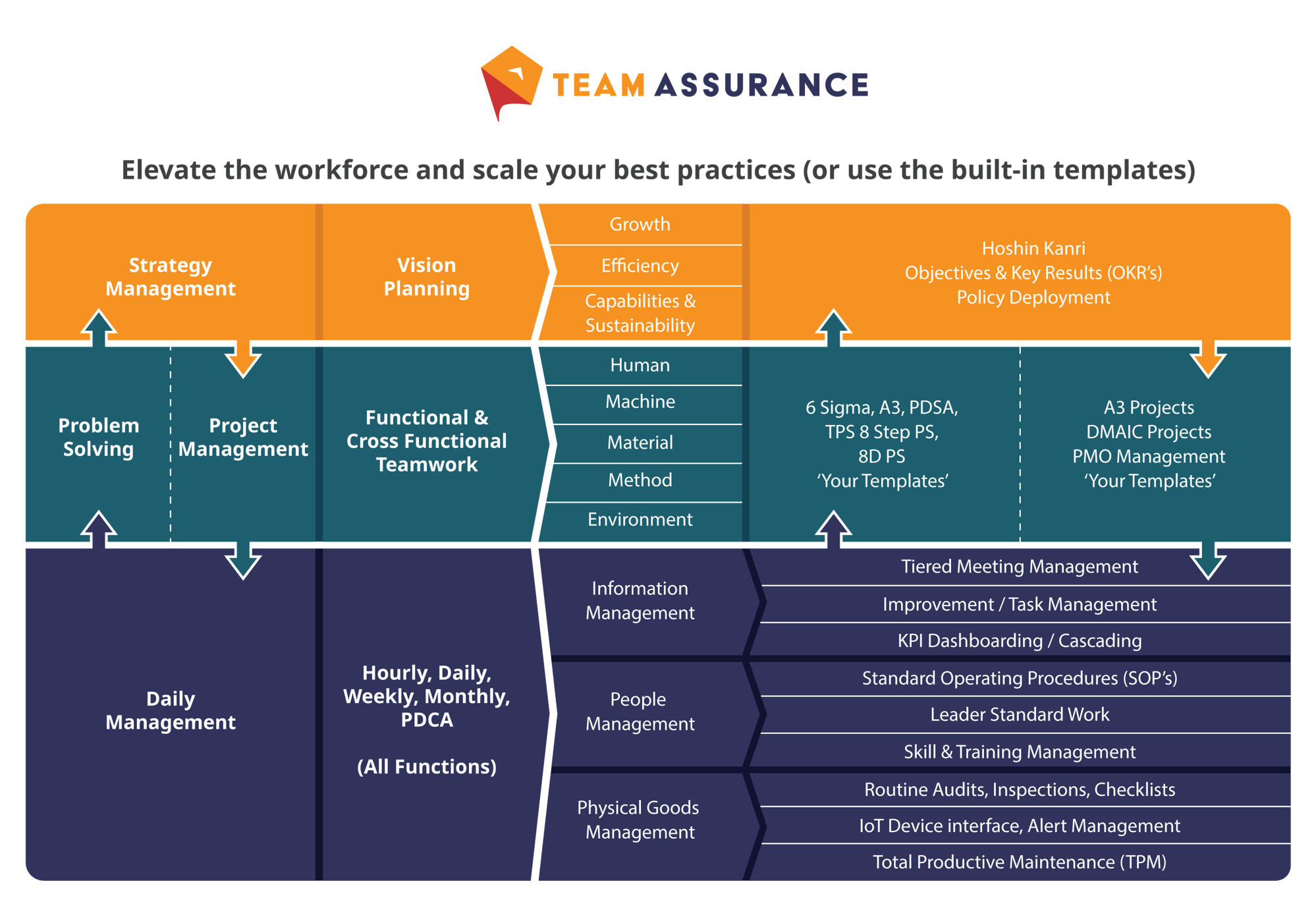 TeamAssurance Checklists, integrated with action tracking and scoring, ensures fast and measurable closing out of issues. If you're a business in need, or a consultant with clients in need, contact us for a demonstration of the TeamAssurance platform today.