The planning and execution of a Continuous Improvement system needs appropriate focus and attention. Managing this process is crucial to the success of the implementation. Otherwise the organization runs the risk that teams will not autonomously continue the CI journey long past the initial deployment. CI is as much about benefitting the employees as it is about benefitting the customer through the outcome of improved quality. It is therefore important that Continuous Improvement involves teams at every stage.
Here are a few tips on ensuring a successful implementation.
Provide a North star
Everyone deserves to know how they contribute to strategic objectives. Think carefully about how these will be communicated, and how they cascade to each level. Give people an opportunity to review their own progress and give leaders ongoing visibility of how the teams are tracking. This way, the company shares a communal sense of success that is more likely to boost morale and motivate workers to continue their contributions.
Simple process
Make it easy to review the suggestions, projects and execution progress. The aim is to reduce the admin to almost zero, making it an efficient and effective process. By cutting out the middle man between leaders and their teams, you are ensuring a faster process that will reduce confusion and strengthen your communication channels.
Monitor health
Are all teams contributing? What is the improvement pipeline? Which teams need assistance? And who is responsible for managing this? It is important to keep these questions in mind when you are setting up and executing on your Continuous Improvement pipeline. It creates a system that is organized and efficient, which can positively impact your company's output and customer outcomes.
Communicate assessment criteria
Are you promoting the most valuable ideas? Do you have the criteria to evaluate this? Who is doing the evaluation? Critically assessing the evaluation process is just as important as promoting the best ideas. Also be mindful to reject ideas which may be valid but not aligned to the current strategy.
Measure outcomes
What was each improvement meant to achieve? Was it achieved? Review your process and iterate to improve (meta huh?). How you assess the outcomes will help you target the areas that need improving.
Feedback and visibility
Engage the workforce, recognize the improvement origins and celebrate the wins. This creates a virtuous improvement culture…that's continuous improvement! By acknowledging the contributions of teams you will make employees feel more included. They will then be more inclined to continue their valuable work in the future.
In order to successfully implement a Continuous Improvement system, you need a clear channel of communication between teams. Lift up good ideas and celebrate successes. Also assess where you have failed and use it to springboard into new solutions for the future.
All Part of a C.I. Framework, Not Locally Optimised 'Islands'
For processes to be maintained, and to thrive, they must be supported by (and connected to) the adjacent processes and systems. For example, elements mentioned above like strategy deployment and documentation, must be supported by standardised problem solving techniques, and a Tiered Daily Management system that can handle the full PDCA loop.
That's why we've designed the TeamAssurance platform to avoid disconnected 'Point Solutions' (digital or analog) that do not help, and or even act as barriers, to achieving your organisation goals.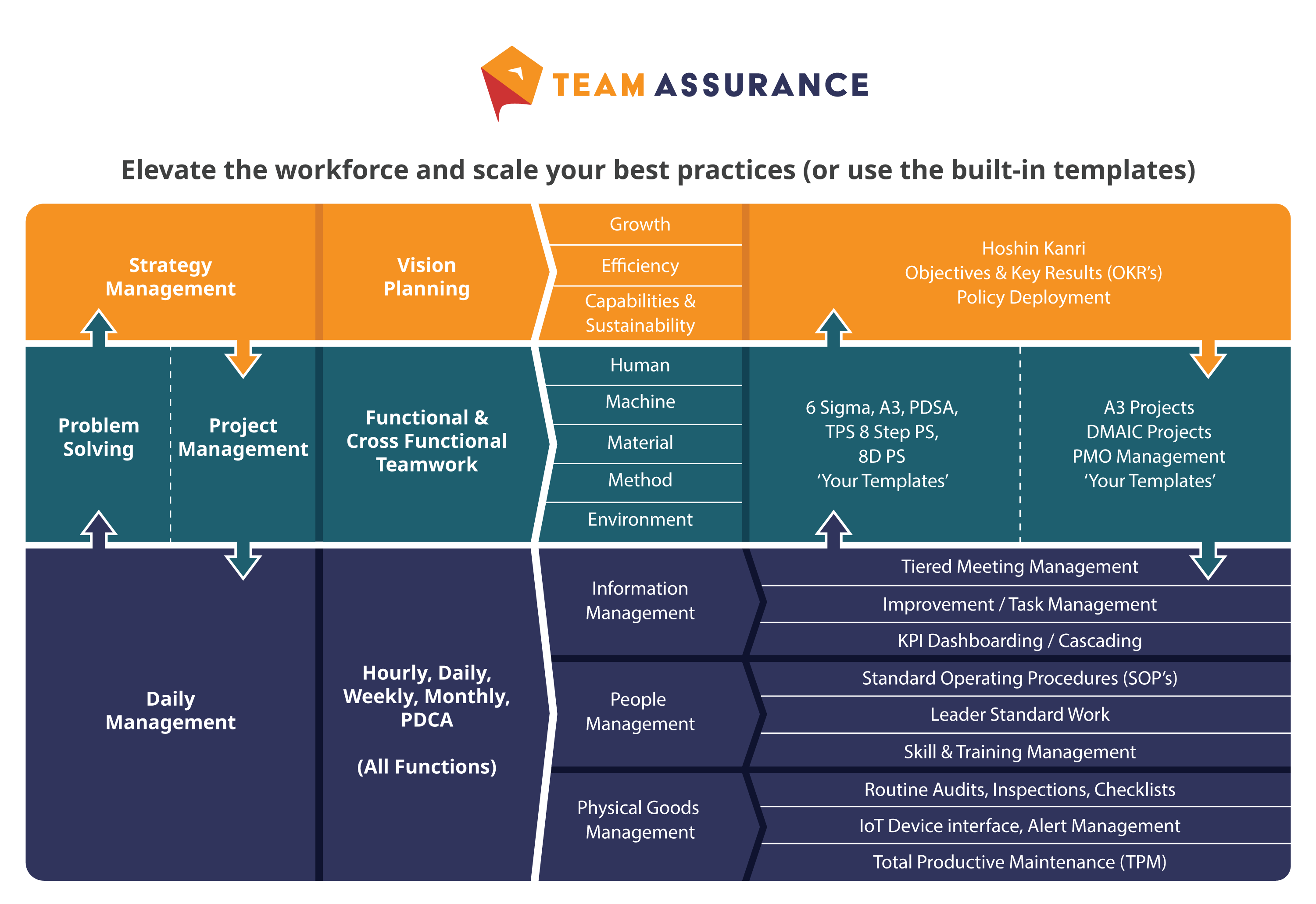 TeamAssurance is a digital Continuous Improvement platform for organisations that want to boost productivity and develop problem-solving skills in their people. If you're a Business in need, or a Consultant with clients in need, contact us for a demonstration of the TeamAssurance platform today.