It's possible to have all of our people involved when it comes to creating CI culture. In this article we touch on key aspects that lead to meaningful contribution from all stakeholders.
Creating a culture of continuous improvement (CI) is not solely a leader's responsibility. It requires everyone's involvement and contribution. As a leader, it's essential to establish an environment where employees are encouraged and enabled to participate in improvement efforts directly.
Self-Awareness and Modelling Behaviours
Leadership requires self-awareness and letting go, as well as modelling the thinking and behaviours that are required to support CI. It's essential to set an example by actively participating in improvement efforts and demonstrating a commitment to a culture of continuous improvement. This goes for every team, and every team member.
With robust, interconnected platform for activity management our people can take ownership – eliminating bottlenecks and sharing the load.
Here's a perfect example below – a staff member recording a model behaviour at the Gemba for it to be instantly available and shared at each tier meeting: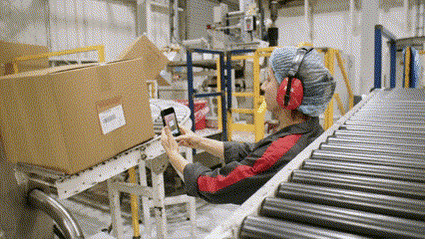 Along with the access to information, a regular daily meeting to review activity provides an opportunity to communicate a sense of purpose. It keeps everyone focused on achieving the organisation's goals and motivates employees to contribute to improvement initiatives.
Agency and Autonomy within a CI Culture
When equipped with information and understanding of expectations staff are far more likely to take ownership of their work. This gives us agency and autonomy – the freedom to make decisions and innovate. Employees should feel empowered to identify and tackle problems, propose solutions, and make recommendations without fear of retribution.
To achieve this (and more) it's essential that leader's provide employees with the time and support to learn and practice improvement tools and techniques. This can be achieved by offering training and education programs, hosting knowledge-sharing sessions, and providing access to tools and resources.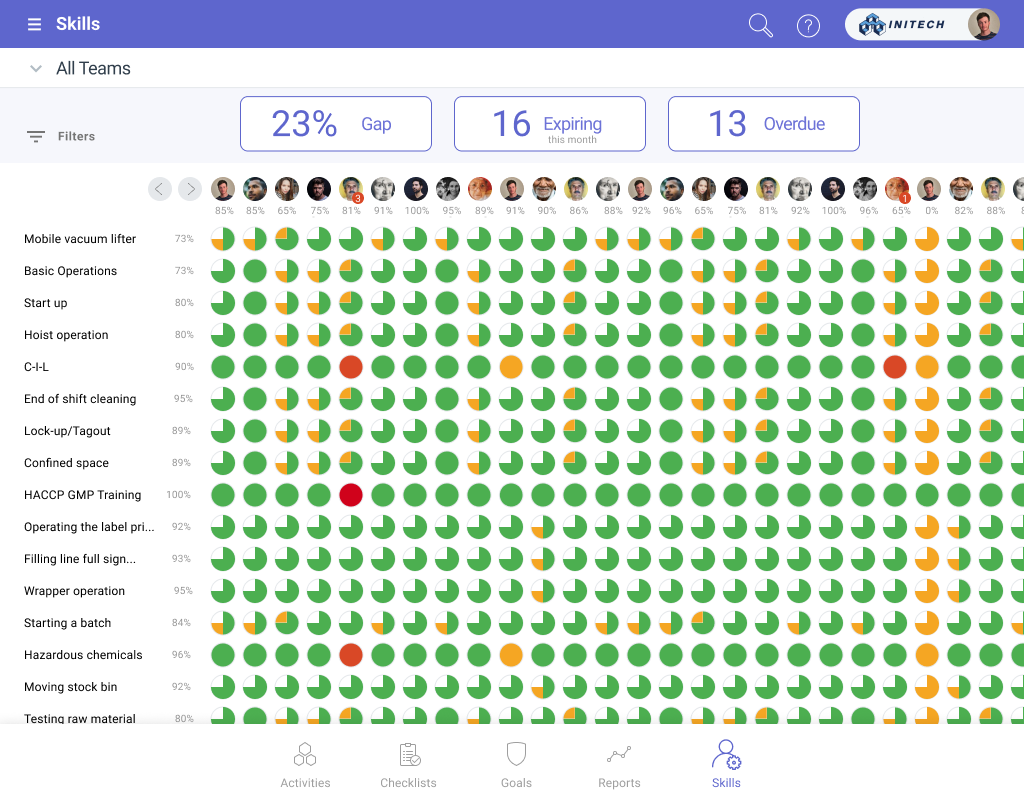 Skills management (as seen within TeamAssurance) help leader's manage and plan for all of these opportunities. Knowing when a staff member is trained on or certified for a process / function eliminates any redundant micro-management, missed knowledge-sharing or coaching opportunities.
A skills matrix is a quick (but powerful) way to makes this all visual. It provides the confidence leaders need to let teams operate autonomously and even allows staff to take ownership of their own learning pathways. Digital skills matrices capture information in real-time, enable proactive alerts to expiring certifications and provide interactive notes for robust 1-to-1s – things physical tools just can't match.
Tools like this connected by a DMS combine to enable our people to take accountability and be proactive in building the culture and maintaining our CI framework. That means no bottlenecks, and the space for our leaders to make meaningful connections with their teams, and meaningful impact with big picture thinking.
---

---
Building Trust and Psychological Safety
As we've just touched on, a culture of CI requires building high levels of trust and psychological safety. It's crucial to create an environment where employees feel comfortable and safe to speak up, share ideas, and contribute to improvement efforts.
Leaders can achieve this by encouraging open communication, listening to employees' feedback, and fostering a culture of respect and transparency. Daily huddles provide an opportunity to to build this trust regularly and reinforce the culture. Remember, we must also ensure this comes through outside of formalised meetings and our casual interactions also demonstrate these values.
A Connected C.I. Framework Not Locally Optimised 'Islands'
To enable everyone contribute directly to improvement we must ensure that all our systems and processes are aligned, connected and optimised simultaneously. Lean tools like standardised problem solving techniques, documentation, A3 Templates, and a Tiered Daily Management process that supports the entire PDCA loop are key.
The graphic below demonstrates how TeamAssurance is designed to avoid locally optimised, disconnected 'Point Solutions' (digital or analog) that do not facilitate a CI culture that contributes to achieving your goals.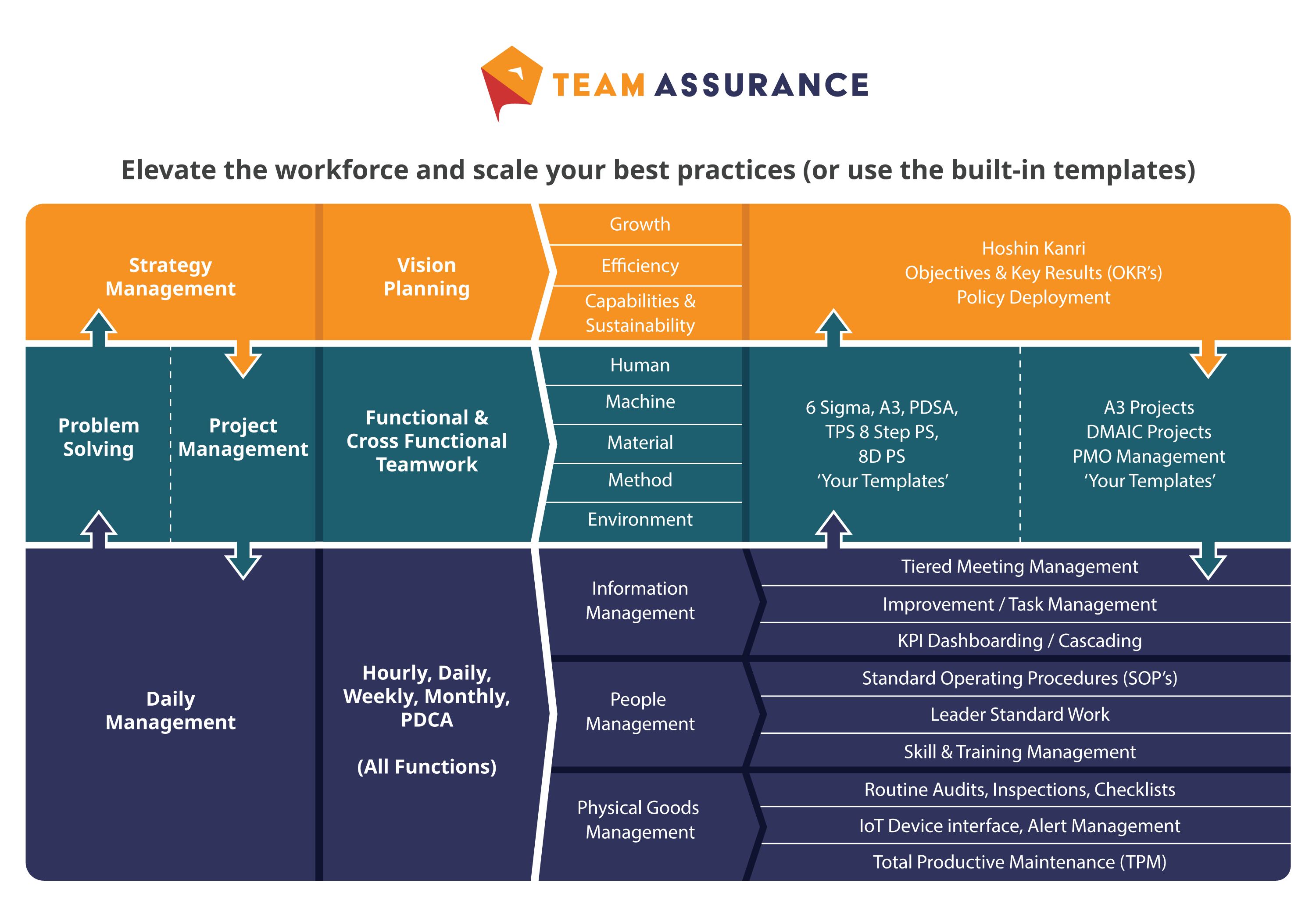 If you're an organisation in need (or even a consultant with clients in need) and you'd like to explore opportunities afforded by digital-aids to Lean tools, contact us for a demonstration of the TeamAssurance platform today.