Paul Dunlop discusses how a standardised, daily management process is key to effective communication, clarity of purpose, and continuous improvement.
Continuous improvement is many things, but first and foremost it is about connecting people to each other and a set of shared goals and objectives. That connection can and will happen organically – it is human nature after all – however, we can optimise this process. To do so we must facilitate the communication of objectives as well as the information that flows up, down and across our organisation. The flow itself is just as important, if not more so, than the flow of your product or service through your process.
Daily management requires communication
Most organisations encounter similar challenges within their daily operations right through to their strategic focus and big picture planning. The number one impediment to effectiveness and improvement is, generally, poor communication. Our failure to communicate clearly, our failure to communicate consistently, our failure to be inclusive and consultative, our failure to be transparent and so on. Communication is regularly spoken about but all too often overlooked and undervalued in organisational life. We simply can't move forward without changing the way we think about and deliver our communication.
In a world of continuous improvement communication has some critical pillars:
It is visual.
It is frequent and consistent.
It can flow freely through the organisation.
It is highly structured.
It is democratic.
It is focussed on learning and improvement.
The bedrock of any organisation's Lean thinking is based around their DVM (Daily Visual Management) process. These daily communication structures happen at all levels of the organisation, across all stakeholder groups and disciplines. Continuous improvement is a practice. Practice requires a routine and it requires a particular form. A daily visual management routine helps us to establish this daily practice and, over the long term, the practice evolves into habit. It becomes muscle memory within an organisation.
Daily visual management provides clarity
Practically, a daily visual management meeting takes no longer than 10 – 15 minutes and is a conversation centred on a visual dashboard of what the particular cohort is aiming to achieve. It should provide clarity of purpose around the right objectives, be expressed simply (and visually) to direct a conversation around what's working well, what's not, and where there are opportunities to improve. The pillar of this conversation should be a  visual representation of what outcomes the process "should" achieve and what it has "actually" achieved.
In this daily discussion there should be a focus on allowing room for curiosity, learning and a bias for action. A team will then collaborate, engage, and experiment openly with the support and guidance of their leader. A "safe" space has been created for communication of ideas that flow freely, and for corrective / improvement actions to be discussed, agreed and implemented. A structured daily management system will ensure the right information is viewed at the appropriate organisational level. It enables ownership, delegation and escalation of activity.
Chris Larkins (SVP of Global Operations – Seqirus) discusses the impact of daily management.
---
---
Continuous improvement through alignment across the greater C.I Framework
In summary, a daily management process will align people with their organisational and department goals each day, every day. It will stimulate and facilitate focus, as well as conversations around sustainability and improvement. Daily management will also ensure information reaches the right people at the right time, providing the necessary support and resources for individuals (and teams) to thrive.
However, we must refrain from thinking of daily management as a locally-optimised island. Lean tools like standardised problem solving techniques, Standard Operating Procedures (SOPs), and a Tiered Daily Management process supporting the entire PDCA loop are also key to achieving strategy success.
The illustration below demonstrates how we designed TeamAssurance as an interconnected platform to avoid disconnected 'Point Solutions' (digital or analog) that do not help, or may even hinder your organisation's strategy deployment goals.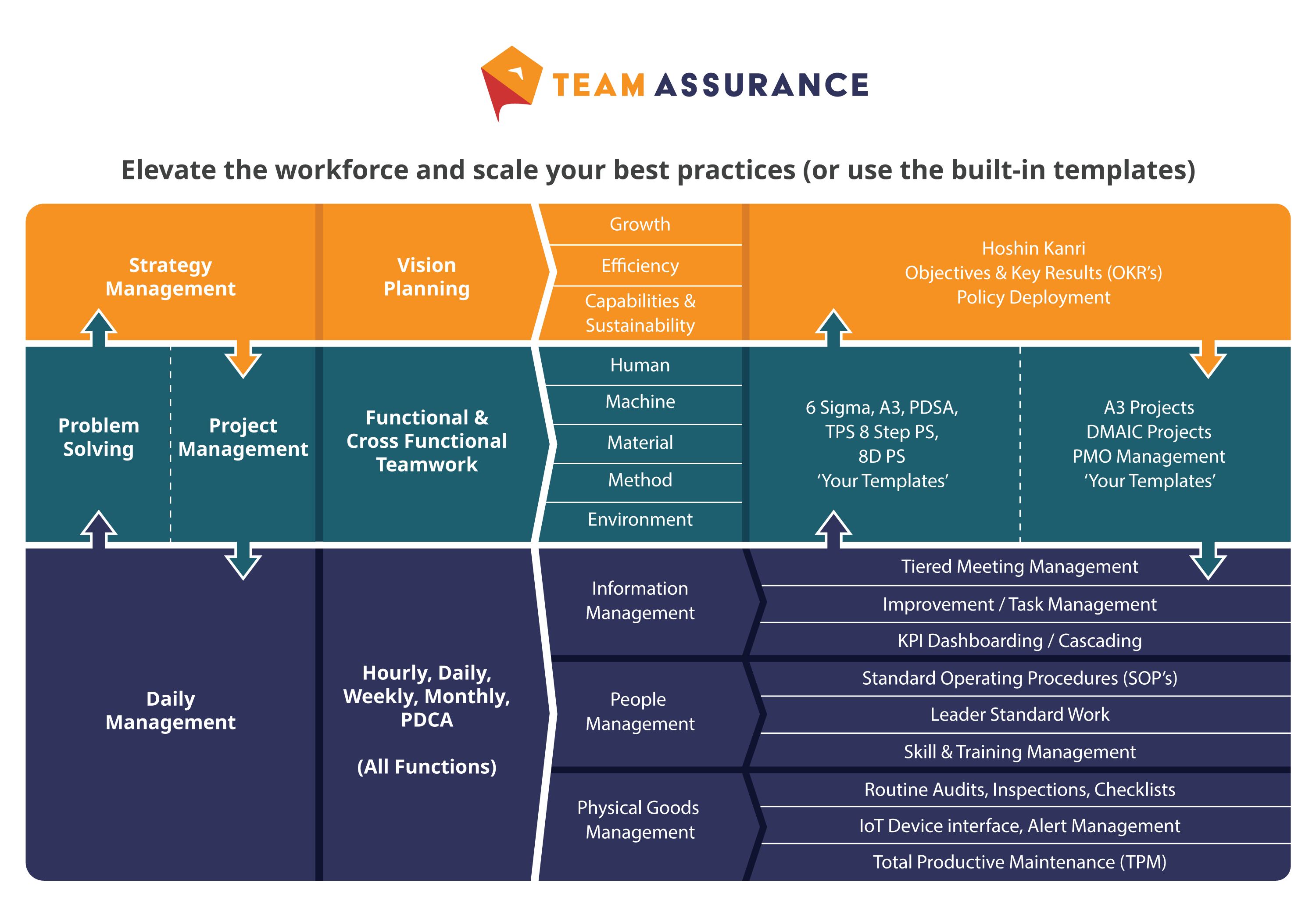 If you're a business in need (or a consultant with clients in need) and you'd like to discuss the opportunities that digital-aids to Lean tools provide contact us for a demonstration of the TeamAssurance platform.