West Gippsland Healthcare Group (WGHG) run their Daily Operating System (DOS) with TeamAssurance. This allows them to;
Update and visualise performance in real-time
Easily share information up and down the organization
Quickly communicate needs across all teams that share its resources
Share learnings and best practices across any part of the group in real-time
Provide a standardized agenda and format for daily huddles
Send out what were usually 'Monthly updates' each day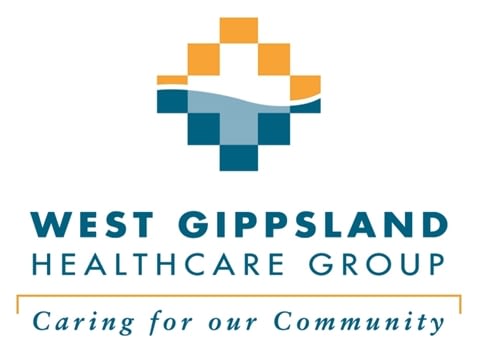 West Gippsland Healthcare Group (WGHG) is a public health organisation providing acute care, residential care and community health services to over 51,000 people.
Adopting best practice
Bettercare Victoria assisted WGHG to adopt a systems approach to innovation and improvement, which included the introduction of a Daily Operating System (DOS). Not having any experience with a DOS previously, the executive team needed a framework to assist with the change management across a large workforce.
Implementing best practice
TeamAssurance is designed to sit on top of a Daily Operating System and help facilitate the process. WGHG now have 38 teams (25 Tier 1) across the group participating in the DOS. This includes Environmental Services, Clinical Operations, Allied & Community Health, Pharmacy, Learning & Development, Performance Improvement Unit and Food Services.
Anchored with a daily huddle, the typical Tier 1 agenda at WGHG includes;
Safety and Quality (falls, medication errors, pressure injuries and risks). Any issue identified on the checklist is then raised as an activity and accountability assigned
Escalations. Examples include barriers for patient flow, staff or patient injuries
Resource readiness for the day – staff, equipment, supplies etc
Rewards and recognition, which will be shared across teams. Acknowledgement of those can flow up and down.
Each team has visibility of today's operations which allows problems to be identified quickly. Frontline staff are empowered to solve these problems daily. Any problems that they cannot fix are escalated, allowing countermeasures to be created quickly.
Previously the monthly meetings were challenging for staff to attend due to shift requirements. The DOS keeps everyone in the loop and more people participate on a daily basis. Executives see this increased engagement as a leading indicator of performance improvement across all areas.
Timeliness of escalations and projects
WGHG were already effective at managing escalations upwards. However, the perennial gap has been the flowing down of information such as decisions or feedback. This two way flow is where a Daily Operating System can be effective, and WGHG really noticed the difference with TeamAssurance. The floor staff feel that their concerns are being heard and actioned at the highest levels, because it's visible to everyone. This creates a virtuous circle where people are more confident to raise issues and incidents – even the minor ones – because they can see and track the status of anything they've raised. That makes it easier to track performance, and bring about long term, sustainable improvement.
"Staff feel like they've got more traction and ability to get things addressed"


Daniel Scholtes, Operations Manager, West Gippsland Healthcare Group
WGHG have also noticed that the activity of the Quality projects has jumped significantly. It's easier to create, share, and manage project tasks as part of the daily activities. Incorporating projects into the business-as-usual tasks has been critical for driving Quality improvement. And the visibility is a time-saver for project staff and executives.
Strategic alignment across the organisation
Once the Daily Operating System is embedded in all the wards, WGHG will focus on strategy deployment. They have clear targets at the top, and clear targets at a department level, but it's connecting the two that is the challenge. TeamAssurance 'Goals' is seen as the tool that can help bridge the gap. Bringing together the daily activities and the strategic activities will help WGHG to continue their excellent progress on safety and quality improvement.
Part of a C.I Framework, Not A Locally Optimised Island
A Daily Operating System like that described above will bolster your daily management and CI efforts. Particularly when the system is built and utilised with best practices in mind. The Daily Operating System will facilitate focus, and stimulate meaningful conversations around safety, quality, and improvement. It ensure information reaches the right people at the right time, providing the necessary support and resources for individuals (and teams) to thrive.
The various elements like standardised problem solving techniques, documented Standard Operating Procedures (SOPs), and an embedded Tiered Daily Management process that supports the entire PDCA loop – just to name a few – all play their part.
Therefore we must not think of any element as a locally-optimised island.
The image below demonstrates how we designed TeamAssurance as an interconnected platform to avoid disconnected 'Point Solutions' (digital or analog) that do not help, or may even hinder the objectives of undertaking a Lean transformation.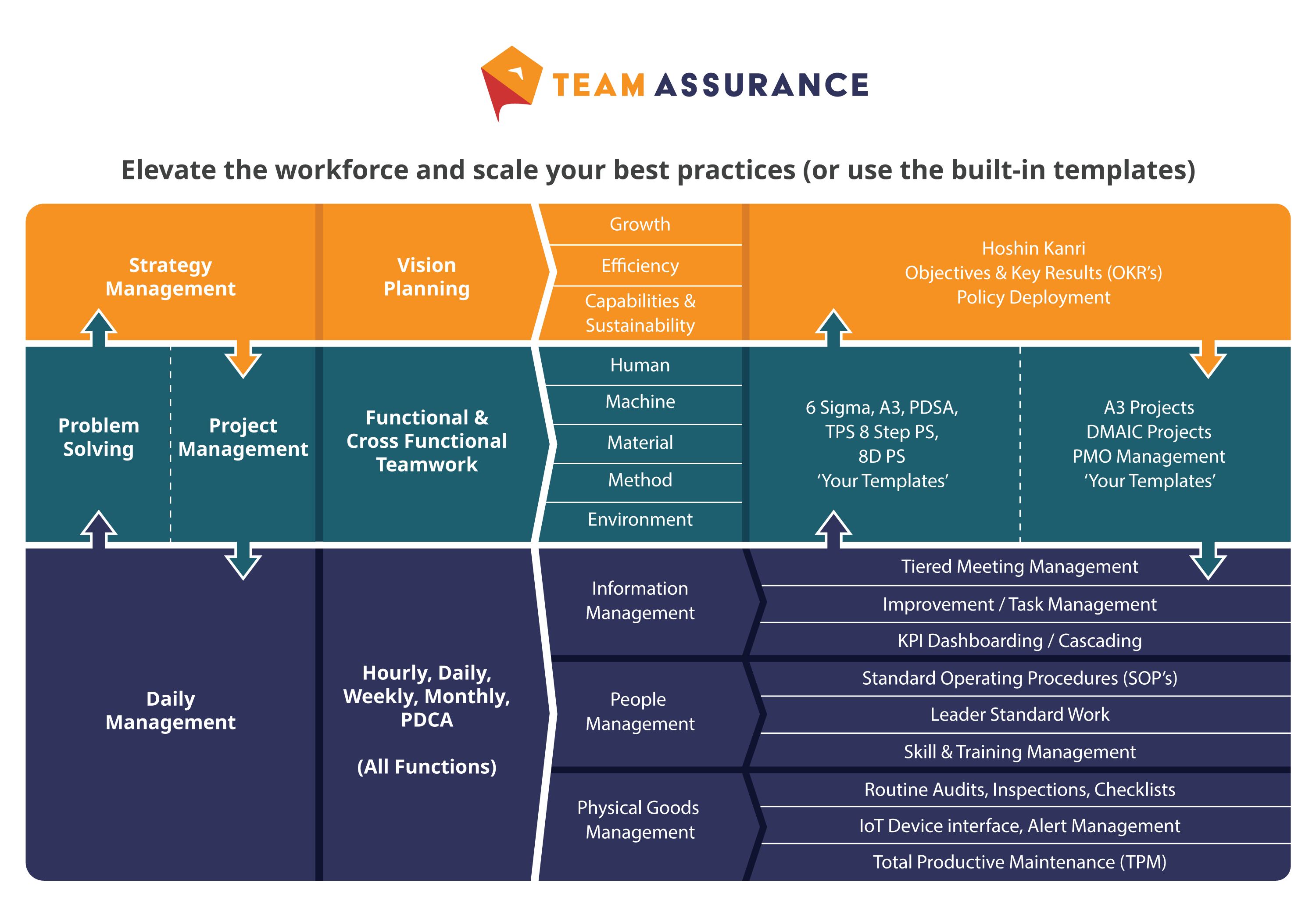 If you're a business in need (or a consultant with clients in need) and you'd like to discuss the opportunities that digital-aids to Lean tools provide contact us for a demonstration of the TeamAssurance platform.