In this article we discuss some ways to to maximise the utility of a safety system for continuous improvement.
In any organisation, safety is a top priority. It's not just about identifying and addressing hazards and near misses, but also about understanding the root causes of incidents to prevent them from happening in the future.
That's where a robust safety system – one that facilitates collaborative problem-solving, enables root cause analysis, and smooths the flow of improvement activity – is key.
Daily management and your safety system
Safety is an ongoing process. It involves tracking and measuring day-to-day performance, identifying any variations and deviations, and taking proactive measures to address them. With a digital daily management system, safety teams can quickly and easily identify potential hazards and near misses, and address them before they become significant incidents.
For example, take the Safety Cross reports embeddable within Tier boards that provides a daily reminder of safety performance: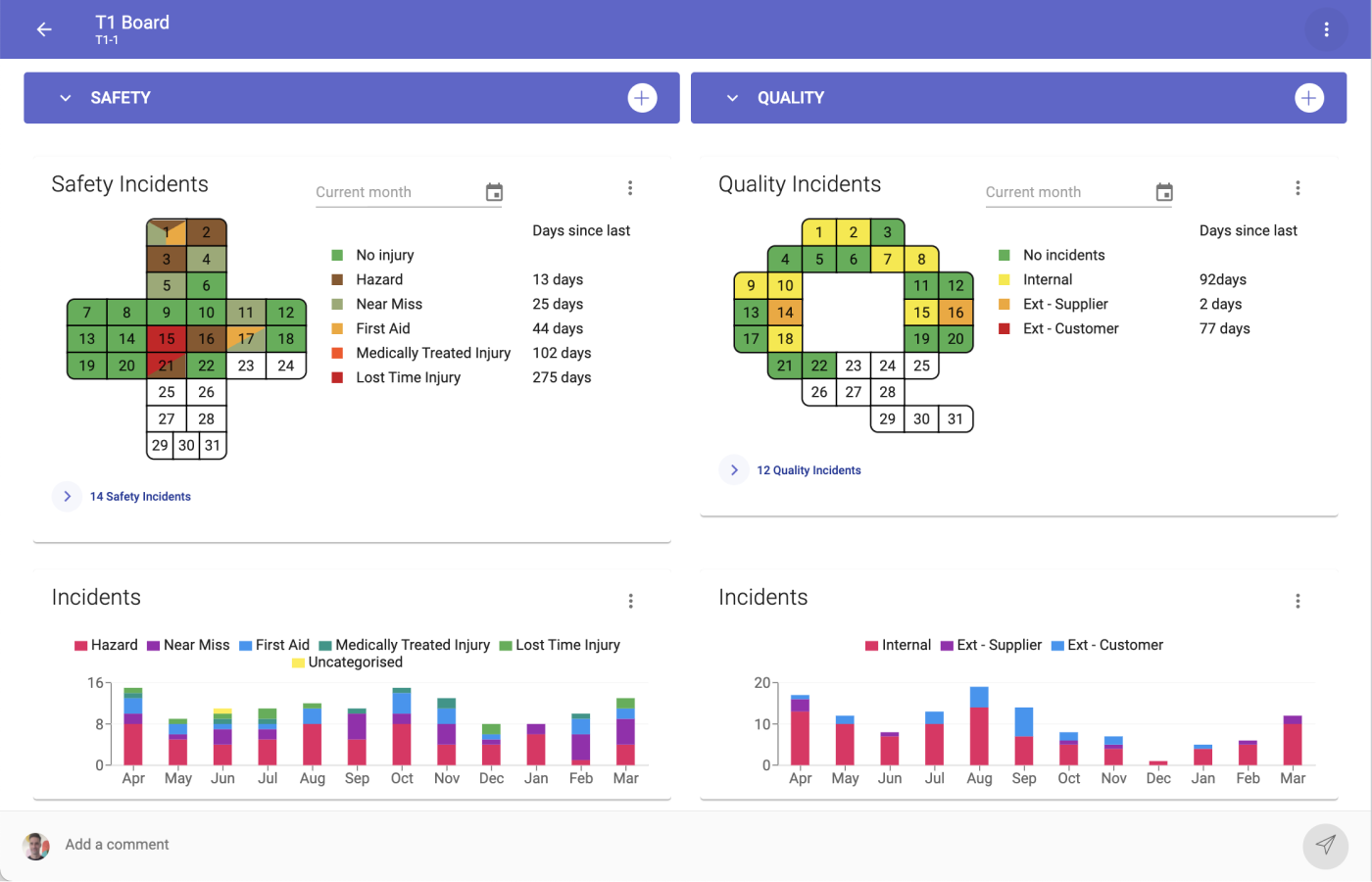 The data you see (and speak to) on your tier boards of course has to be captured somehow. This is where checklists come in handy as a daily management tool.
Under a continuous improvement model, Checklists ensure processes are standardised and that safety audits become part of the daily business-as-usual. It means our people can take ownership of proactive safety activity, audits are completed in the same way daily and we have the data we need to make informed decisions.
Using digital checklists unlocks even more capabilities; real-time reporting, instant assignment of follow-up activity resulting from a safety check, checklist scheduling and reminders – just to name a few. The video below – filmed on-site at a TeamAssurance user – is a prime example of digital innovation within a safety system:
The physical Kamishibai board and TeamAssurance work together to enable staff to complete audits in a standardised manner, with more accuracy, greater speed, and at the Gemba.
The Importance of Corrective Measures Within a Safety System
While proactive measures are essential for building a strong safety system, it's equally important to have a robust corrective process in place for significant incidents.
These incidents could be significant near misses, medically treated or lost time injuries. A root cause analysis is a crucial part of this process, allowing safety teams to identify the factors that led to the incident.
To conduct a robust root cause analysis, the right stakeholders need to be involved. This includes anyone who was directly or indirectly involved in the incident, as well as subject matter experts. A3 Templates in TeamAssurance enables everyone to contribute in real-time with all information visible and follow-up tasks / dependencies linked: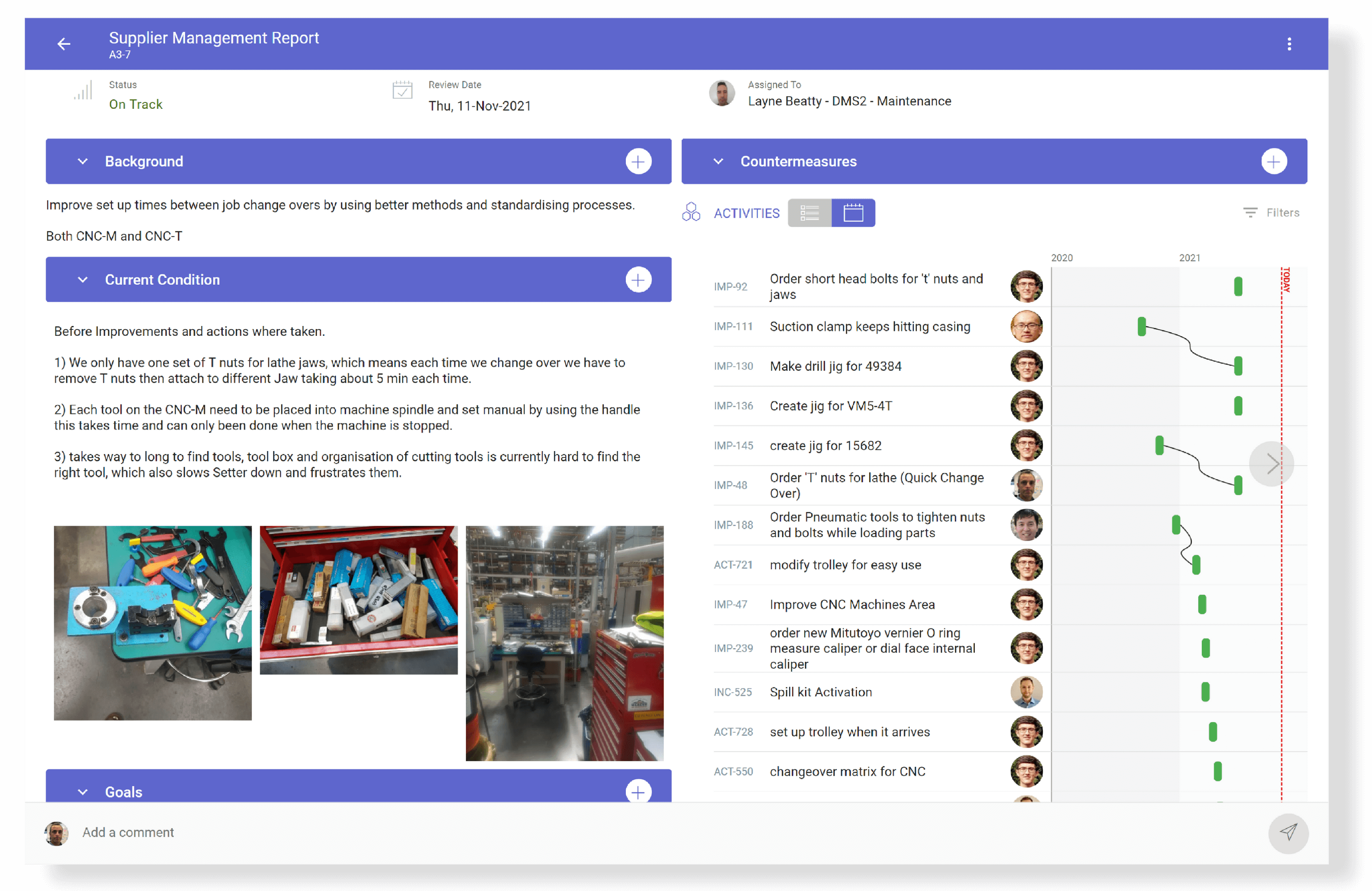 The process involves identifying all of the shaping factors that led to the incident occurring, including any unseen or unknown factors. This information can then be used to plug gaps in the safety system and continuously improve.
When you're gathering so much information and collaborating with multiple people / functions – a digital platform really helps. Not only is much of the information that forms your analysis already going to be readily available, Teams can collaborate remotely, rapidly reach a resolution and utilise a highly visual tool to manage the work.
Plus, any changes to process or even the problem solving methodology itself can be updated globally, instantly.
---
---
Part of a C.I. Framework, Not Just a Locally Optimised 'Island'
For an embedded safety culture to not only be sustained, but to thrive, it must be supported by all adjacent processes and systems. So we must always consider how the various tools interconnect; ensuring we don't optimise or develop them in isolation. Tools like those mentioned above, as well as Leader Standard Work, standardised problem solving techniques, and a Tiered Daily Management system are key to closing the PDCA loop.
The image below of demonstrates how we designed an interconnected platform to handle the various tools and processes that fall within a continuous improvement framework. It's a platform that avoids disconnected 'Point Solutions' (digital or analog) that do not help, and or even act as barriers, to achieving an optimised CI framework.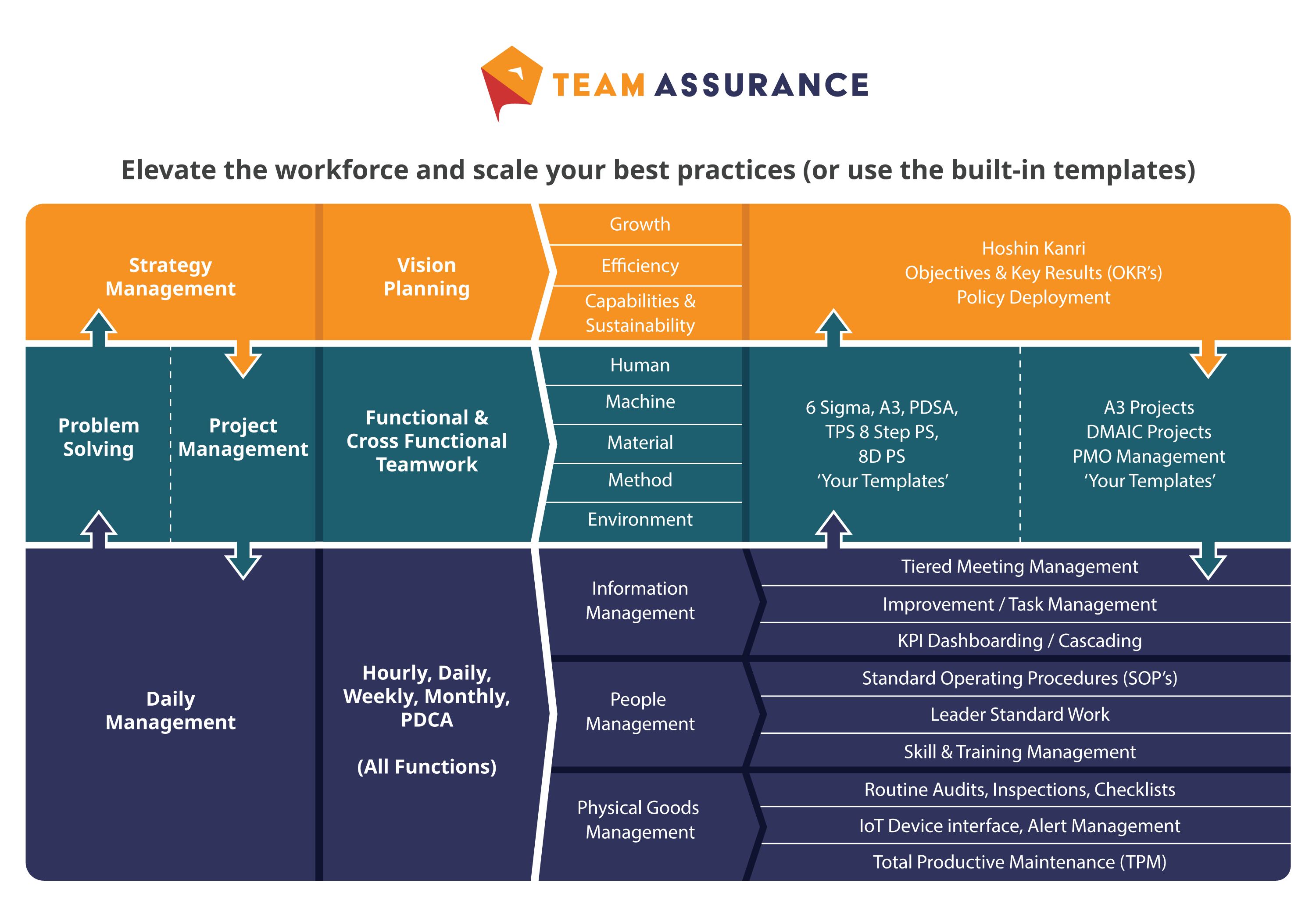 Want to explore the safety system opportunities offered by digital-aids to Lean tools? If you're a Business in need, or a Consultant with clients in need – contact us for a demonstration of the TeamAssurance platform today.