The frontline teams at pump manufacturer Davey are engaged and participating in lean activities on a daily basis. This has driven them to the lowest injury rate in their 80-year history and workcover premiums are the lowest they've ever been.
CLIENT
Davey Water Products is a Melbourne-headquartered manufacturer of high-quality pumps for customers throughout the world.
CHALLENGE
Davey trialled a 'Safety Champions' program, which gave staff authority and responsibility for safety over a full day. On a daily rotating roster, staff were tasked to;
Complete a safety observation and have a conversation about safety
Find a safety concern and raise an action to have it rectified
Reward a staff member for good safety practices
De-brief with leaders the next working day by attending the morning safety discussion with Team leaders
The trial was successful with 110 opportunities for improvement identified and implemented. Davey decided to embed the safety champion concept into each team, however it was taking up to 2 hours of administration each week with one safety champion, let alone one per team. Davey wanted a more efficient approach to capturing and sharing this information.
SOLUTION
The Safety Champions program was integrated into daily management by utilising TeamAssurance on the shop floor and at Daily Operations meetings and Team meetings.
Instead of capturing information on paper, the frontline used tablets on the shop floor to capture information directly into the TeamAssurance app
Photos were added to clearly illustrate the safety concerns
Actions were linked to the Safety incidents, so that the frontline could track progress and completion. This ensured follow-up was controlled and the feedback loop encouraged further continuous improvement from the shop floor
Maintenance were able to immediately identify urgent safety concerns and prioritise
Good safety practices (that were previously verbally discussed with individuals) were able to be logged and then shared via touchscreens with all teams so that it became a positive reinforcement of safety culture
Additionally, safety objectives were made visible to the entire organisation, deployed to the shop floor and teams were given safety targets to achieve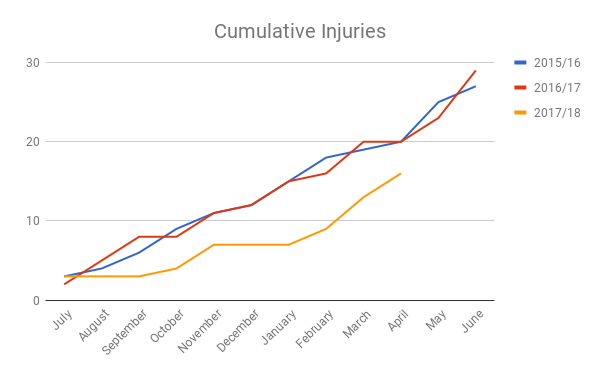 RESULTS
Improved culture of sharing and discussing safety concerns in the work place
Increased awareness – staff are more vigilant and more willing to discuss safety concerns
Every staff member has visibility of all safety concerns and is motivated to improve the safety culture
Team leaders have reduced administration tasks, and become more involved in safety discussions and corrective actions to help improve safety across the site
A continuous improvement approach to safety across the site has been achieved
Closeout of actions happens at a much faster rate, and no action goes missing once raised
SCORECARD
Lowest injury rate on record
20% lower injuries than previous best
Workcover premiums are the lowest they've ever been: 0.58% of wages, which is 43% better than the industry average
180 Safety Activities raised over 10 months, including;
37 Safety Incidents recorded
33 Safety Actions completed
20 Safety Behaviour Observations
25 Safety Improvements implemented
54 Safety Maintenance Requests completed
10 Safety One Point Lessons shared
7 Safety Goals deployed