Behaviors drive habits, which in turn creates the culture of the workplace. So how do we systematize and scale positive behaviors to drive a safety culture?
I've been thinking a lot about this in reference to Heinrich's principle (Figure 1), or the Accident triangle. This model suggests that many individual behaviors ultimately lead to an injury. For example, the logic behind Behavior-Based Safety is that by addressing the unsafe behaviors of individuals it will lead to less injuries. It's a step in the right direction, but insufficient on its own.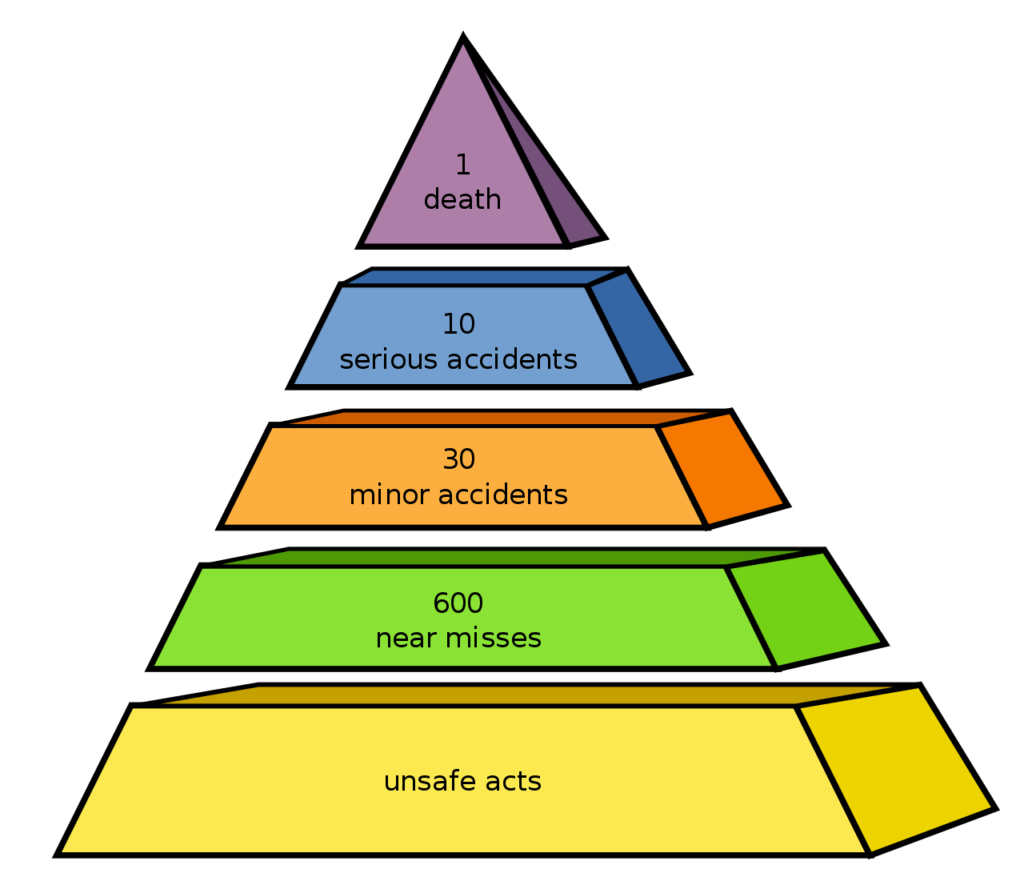 Start with Safety Hazards
Firstly, as everyone knows, there are many high risk safety hazards in the workplace that have no relation to worker behavior. It may be ensuring all equipment have guards in an industrial setting, or that appropriate disposal bins are in place for needles in a healthcare setting. Providing a psychologically safe space for employees to raise hazards is the beginning of behavioral change – and it starts with the leaders. Once the engineers or maintenance teams have thoroughly addressed these issues, behaviors from their teams becomes critical. However, changing an individual's behavior doesn't address systemic unsafe conditions or processes, and that behavior doesn't change across the organization just because one person changes.
The Foundations of Safety
While the Heinrich Triangle concentrates on worker behavior, I think it lacks an essential systems component. I envisage a model where there is a psychologically safe culture and a Daily Operating System (or Daily Management System) to support it. (Figure 2)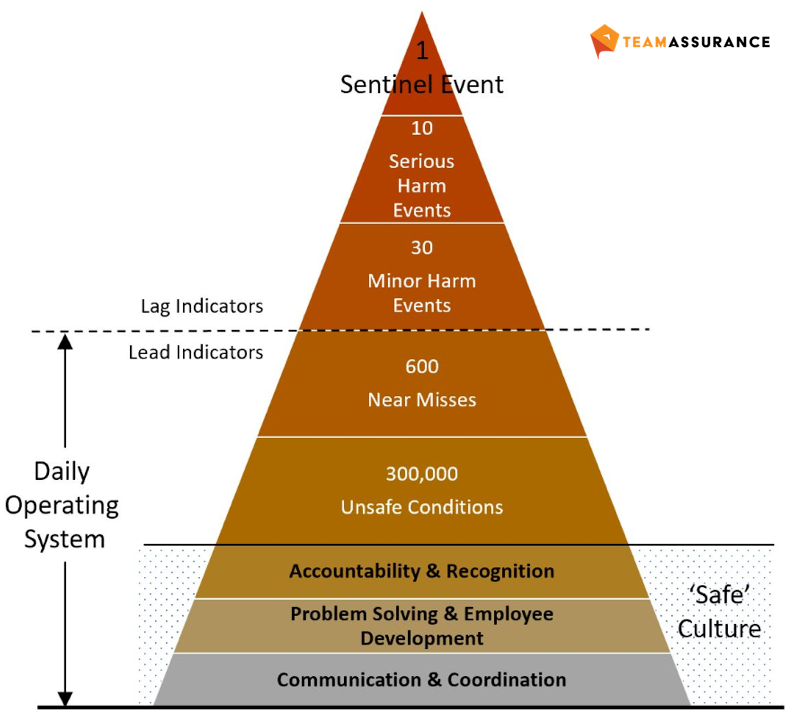 Safe Culture
Accountability and Recognition
A good leader will praise the positive behavior in a team setting, and coach the corrective behavior one-on-one. Team members learn in this way that they're recognized for good behaviors, and also that it's safe to raise concerns of others.
The practical side of this is that Actions that arise as part of the DMS must be a closed loop – in that they are assigned, tracked, closed out and the originator is kept informed throughout, including the outcome. A team member should be confident that issues they raise will be followed up by leaders.
One point lessons are a useful tool to communicate positive behavior or corrective behavior. These should be quick to create and share within a team, across teams, and across sites. One person's lesson should be an organizational learning.
Problem Solving and Employee Development
Team members are often the best source of insight for why or how a problem is occurring. Use their insights in a cross-functional problem solving team and at the same time develop their skills on the job. Ishikawa diagrams and 5 Whys are great exercises for a small cross-functional team and then let the team members lead the investigation actions and report back. For larger issues you may want to use the A3 report format.
Checklists are a useful tool to ensure processes are standardized and that safety checks and safety walks become part of the operating model. In a system, these should be scheduled and assigned and anything that needs attention should be addressed immediately and directly in the DMS.
Communication and Coordination
For increased speed of organisational improvement to occur, teams must be able to not only rely on their own experiences and learning from their immediate environment, but also be able to share from the experiences of all teams in their networks. This removes the 'single speed' nature of improvement that is reliant on local 'near misses' to set the speed for change.
Rollup all safety actions, one point lessons and problem solving into a toolbox talk. One of our customers does this using a saved search they titled 'Safety Toolbox talk' and is able to run through these without any preparation. The easier you make it for leaders to coach, the more teams will absorb, the more likely you'll develop a culture of safety.
Daily Management System
The DMS is critical. Check-in regularly through tier meetings and daily huddles, solve problems regularly, engage and support people in the process. Radically improve escalation, resolution and create a visual means to manage the work.
Here's an example of how this systems approach has benefited one of our customers. They have an excellent safety record however they were always looking to improve and creating campaigns to continue the great efforts.
The introduction of an Operational Excellence Management System (OEMS) provided leaders with tools to foster a psychologically safe culture built into a digital DMS. It enabled the frontline to proactively engage in their own safety observations (positive and corrective) outside of any campaign. They developed problem solving skills, their improvement ideas were heard and implemented, and safety concerns were able to be quickly escalated and addressed with feedback directly to the teams. This is an effective safety model. From their already impressive safety record, in one year they further reduced injuries by 35%.
The benefits of the systems approach:
Improved culture of sharing and discussing safety concerns in the work place
Increased awareness – staff are more vigilant and more willing to discuss safety concerns
Every staff member has visibility of all safety concerns and is motivated to improve the safety culture
Team leaders have reduced administration tasks, and become more involved in safety discussions and corrective actions to help improve safety across the site
A continuous improvement approach to safety across the site has been achieved.
Closeout of actions happens at a much faster rate, and no action goes missing once raised, making compliance easier and more transparent.
---

---
Part of a C.I. Framework, Not Just a Locally Optimised 'Island'
For any process and safety culture to not only be sustained, but to thrive, it must be supported by adjacent processes and systems. So when implementing Lean consider how the various tools interconnect – and ensure you don't optimise or develop them in isolation. Tools like Leader Standard Work, standardised problem solving techniques, and a Tiered Daily Management system should work together to handle the full PDCA loop.
The schematic below of the TeamAssurance platform shows how we designed an interconnected platform that avoids disconnected 'Point Solutions' (digital or analog) that do not help, and or even act as barriers, to achieving an optimised CI framework.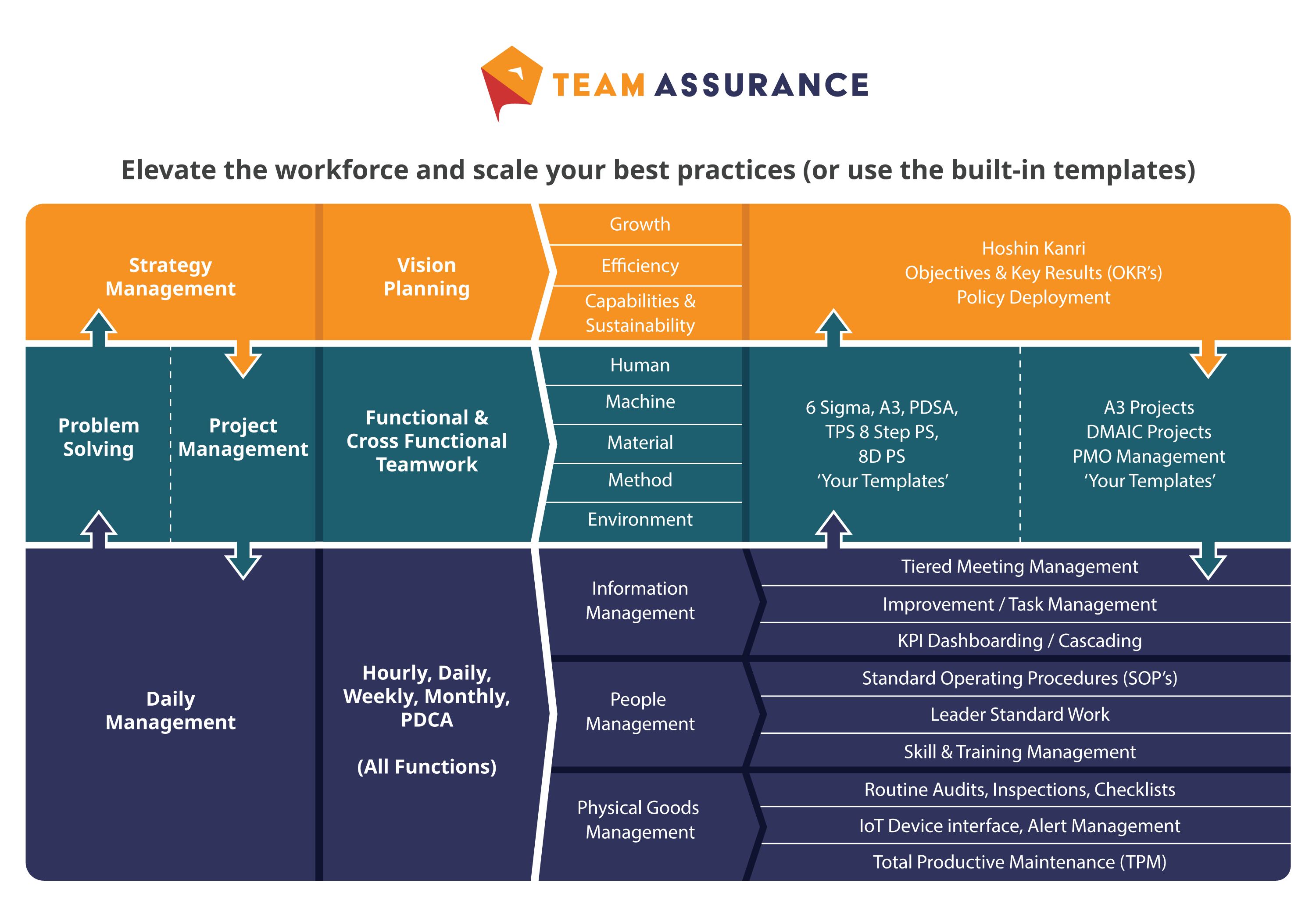 Want to explore the opportunities offered by digital-aids to Lean tools? If you're a Business in need, or a Consultant with clients in need, contact us for a demonstration of the TeamAssurance platform today.