Hands up if you've experienced Continuous Improvement frameworks that wither away and die. Me too. A 2017 study into why these fail concluded that planning, motivation and training are the most significant factors. Without these, the Continuous Improvement process will not take hold to become sustainable. It's handy to understand the contributing factors, however a generalization like motivation isn't easy to translate into practical application. How do you incorporate motivation into a Continuous Improvement process?
I'll draw on my own experience to elaborate on these contributing factors, and how I think they can be applied to generate a sustainable model for Continuous Improvement.
Planning
Goal trees are an excellent visual tool to communicate business goals (sometimes referred to as Driver diagrams or Hoshin plans). These allow each cascading level to carefully plan their goal design and deployment so that the higher level goal will be achievable. Purpose in design before execution is the key point here.
But planning is not enough. Leaders need to be great planners and demonstrate that they can execute. Therefore, goal progress must be tracked in real-time. That doesn't mean simply upping the frequency of static presentations and dead spreadsheets. It means eliminating them altogether. There are apps available to design your goal tree, track progress and get everyone updating their own contributions in real-time with zero admin.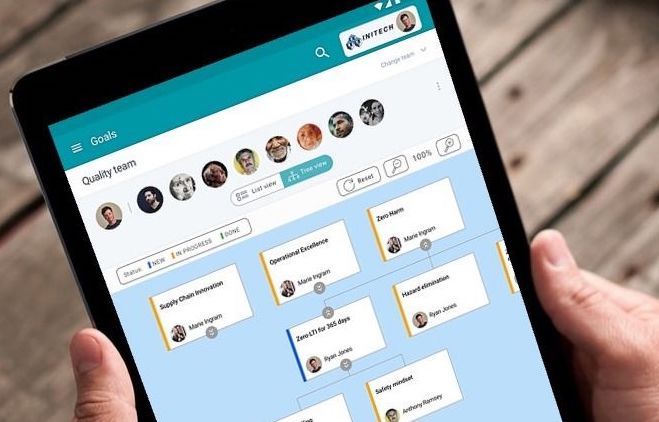 Goal Tree on TeamAssurance
Motivating Employees
Now that you have avoided running headlong into executing a poorly designed plan; how do you motivate teams to sustain their efforts? Great results go beyond setting the strategy, it now requires the proper infrastructure to support people's execution as well. Helping your teams in execution when they need it, in real time is the leader's role – not simply reacting a month after things have all come to a standstill. Learning that their leader is there with them at every step of their carefully planned improvement strategy is the secret to motivation.
Every leader must embody the notion that everyone has two jobs – their day job, and improving their day job. That's the mindset and that's the goal for creating sustainable Continuous Improvement process. Often the first task of the leadership team is to reorient the organization back towards what is important. For some organizations, the customer or patient has been lost in the wash of busy work, for others, those delivering the value on the frontline have somehow been deprioritized. Visibly and consistently reorienting the organization back to what's most important – using the Goal tree – is key to motivating employees to sustain their continuous improvement efforts.
Coach people through the process of setting their own goals. These should align with upper level strategy, which they can trace through the goal tree.
Make it simple to link their improvements to goals. If they can't find a goal to link to, maybe it's not the right time for this particular improvement idea.
Maintain oversight, check-in with them at regular intervals and remove the barriers (local, cross-functional, organizational) that they cannot.
This can be incorporated into a Daily Management System, which acts as a fly-wheel for the Continuous Improvement process.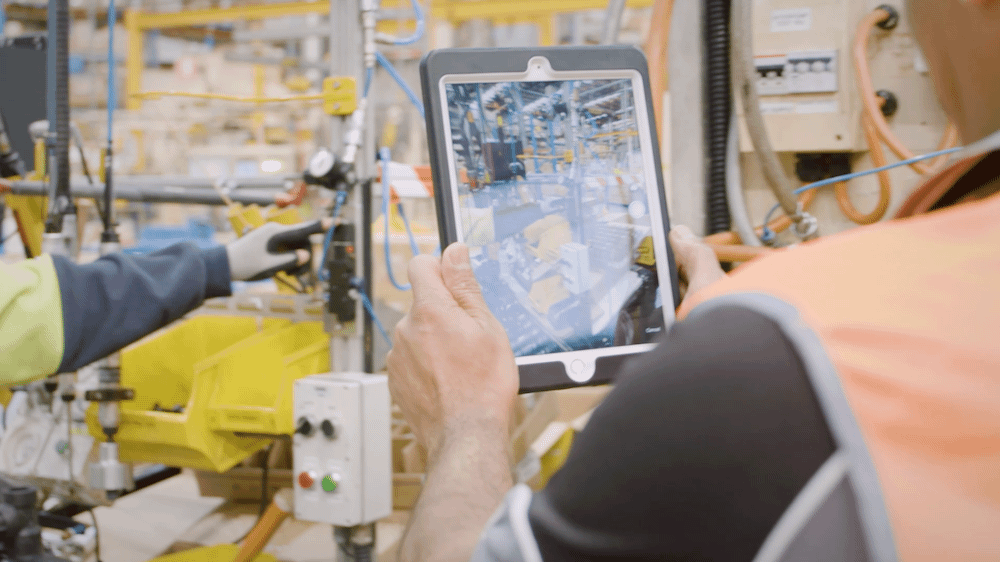 Training Teams
Continuous Improvement is an organizational capability. Certainly, specialists have their place and are essential as coaches, but once the mindset of everyone having two jobs takes hold, everyone needs to feel capable to make improvements at the level appropriate for their role. This continuous improvement capability can be developed on the job, very simply, by following the 70-20-10 blended learning model. This model describes how 90% of effective, retained learning is either on the job or through one's peers. The remaining 10% involves formal training such as lessons taught in classrooms. These are necessary of course, though be mindful that it is difficult to retain learning without the ability to apply it quickly, practically and in context. That means in the moment, when it happens, in your own language.
So once again, as leaders, the question to you is – how are you setting up your teams to learn on the job and through each other?  Below is a simple cycle that can be kicked off, starting as small as needed initially. As the concept is supported, and people encouraged and recognized, the number of domains and the size of improvements will grow. This is an example of the very first few steps towards becoming a learning organization.
Ask for people to share their expertise in a One Point Lesson
Share this in your next tier 1 meeting/toolbox talk
Share to other teams and locations so that it becomes an organizational learning
Others will find a way to further improve this and the cycle starts again
Again, this can be incorporated into your Daily Management System.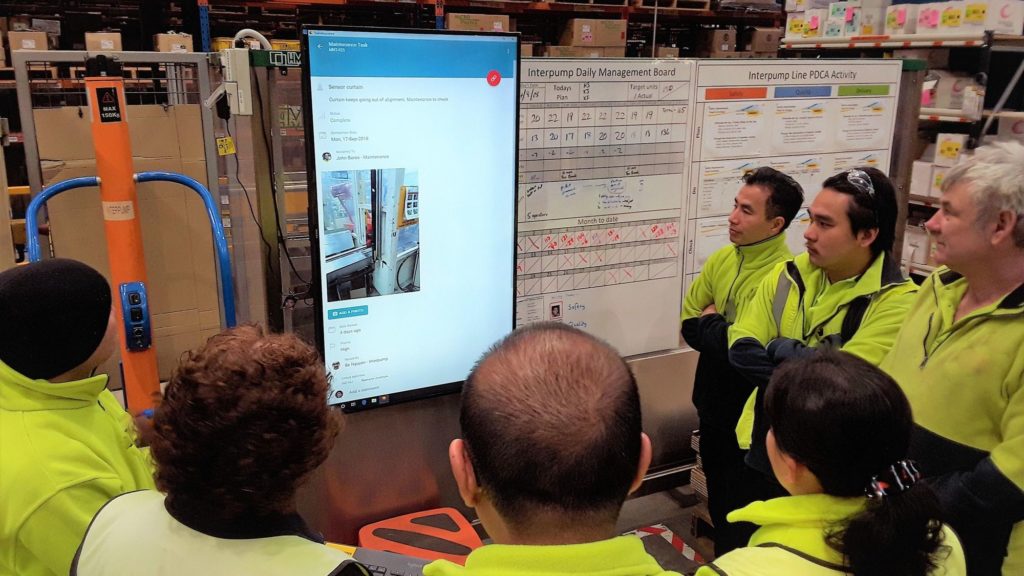 Continuous Improvement needs to be sustainable to consistently deliver value to your customers. Most of that comes down to how the implemented Continuous Improvement process responds to individuals and teams – their needs, their ideas, and their performance. When you link this to a well-planned strategy, you'll produce results that last.
A C.I. Framework, Not Just Locally Optimised 'Islands'
For any process to not only be sustained, but to thrive, it must be supported by adjacent processes and systems. So when implementing Lean consider how the various tools interconnect – and ensure you don't develop them in isolation. Tools like Leader Standard Work, standardised problem solving techniques, and a Tiered Daily Management system should work together to handle the full PDCA loop.
The schematic below of the TeamAssurance platform below shows how we designed the interconnected platform to avoid disconnected 'Point Solutions' (digital or analog) that do not help, and or even act as barriers, to achieving an optimised CI framework.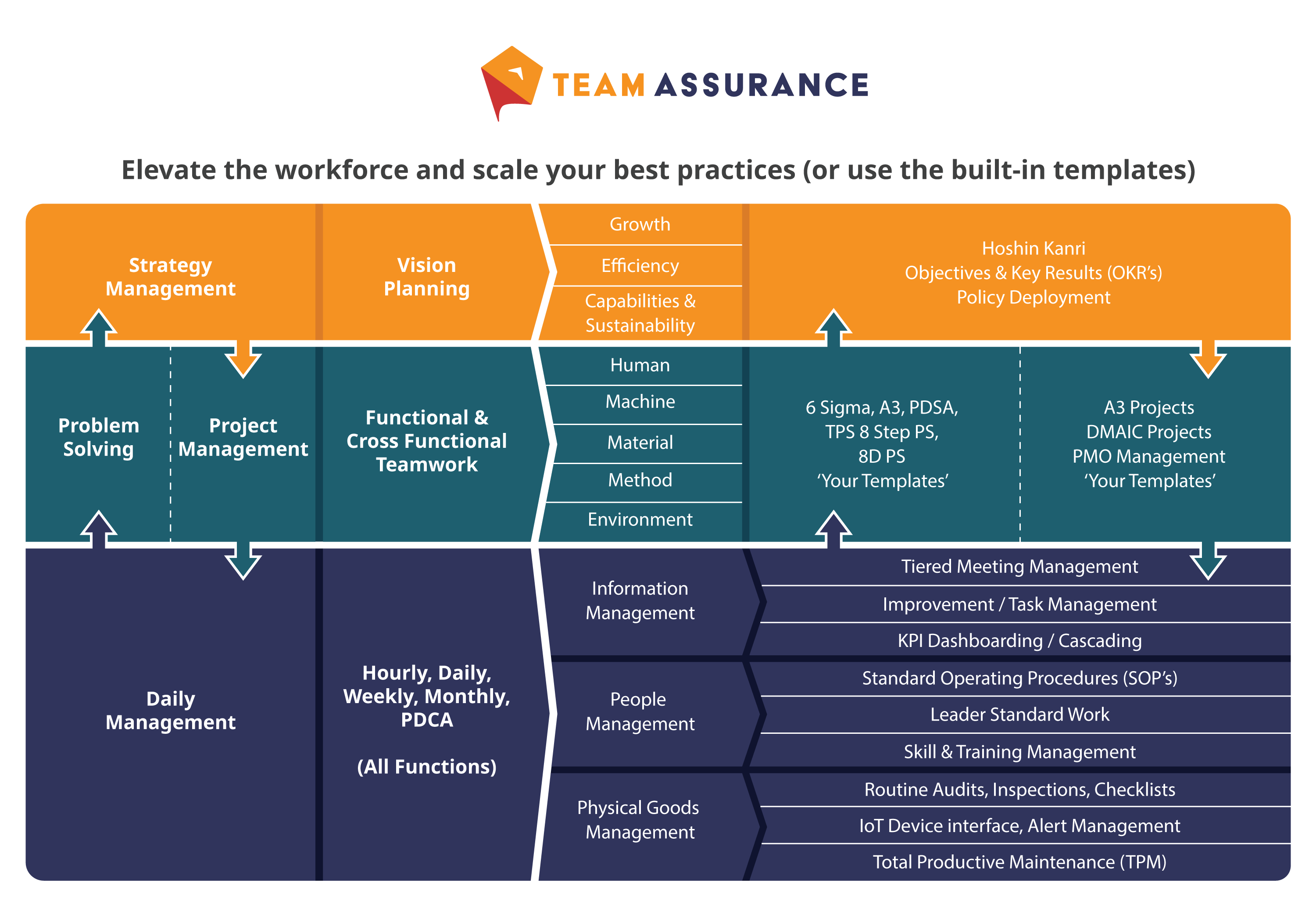 ---
TeamAssurance is a digital Continuous Improvement platform that can boost productivity and develop problem-solving skills in your frontline people. If you're a business in need, or a consultant with clients in need, contact us for a demonstration of the TeamAssurance platform tod