The tier meeting enables information and improvement activity to flow at all levels in a cascading fashion. We take a look at how to get it right at all levels.

The tier meeting is an effective tool for aligning an organisation's efforts with its strategic goals. In particular, they play a pivotal role in engaging frontline teams and empowering them to actively contribute to the execution of the organisation's strategy.
These tiered meetings form a series of quick, focused discussions that aim to bring every team in sync with the organisation's goals. They foster a culture of accountability, instil a mindset of continuous improvement, and provide a solid foundation for sustained Lean transformation​.
N.B. If you're yet to implement a tiered meeting system, you might also find our article 'Tiered Meetings are the First Step to Operational Excellence'
The Importance of the Tier Meeting
The importance of tiered meetings cannot be overstated. Without them, organisations risk losing ground on previous improvements. Fortunately, implementing these meetings is not a daunting task.
It's as simple as the coach of a basketball team meeting with the players at the start of each game to set expectations, discuss positions and plans, and address concerns.
The coach then reviews their behaviour at halftime and adjusts as needed. In the same way, frontline teams can easily adopt tiered meetings to align their efforts with the organisation's strategic goals and continuously improve their performance. The video below highlights how tier meetings, supported by a connected daily management system, have elevated and accelerated improvement at Pact Group.
The Purpose and Focus of the Tier Meeting
Each tier meeting serves multiple purposes and contributes to an effective management system. It offers a chance for the team to reflect on the last 24 hours, review overdue items, and plan for the next few days. The meetings also provide a platform for knowledge sharing, fostering learning, and developing problem-solving capabilities within the team. They can also serve as a pulse check for team culture and morale.
A tiered meeting structure involves everyone in the organisation, not just the frontline. Most organisations will typically utilise a 3 tier approach, however a 4th, executive tier can also appear.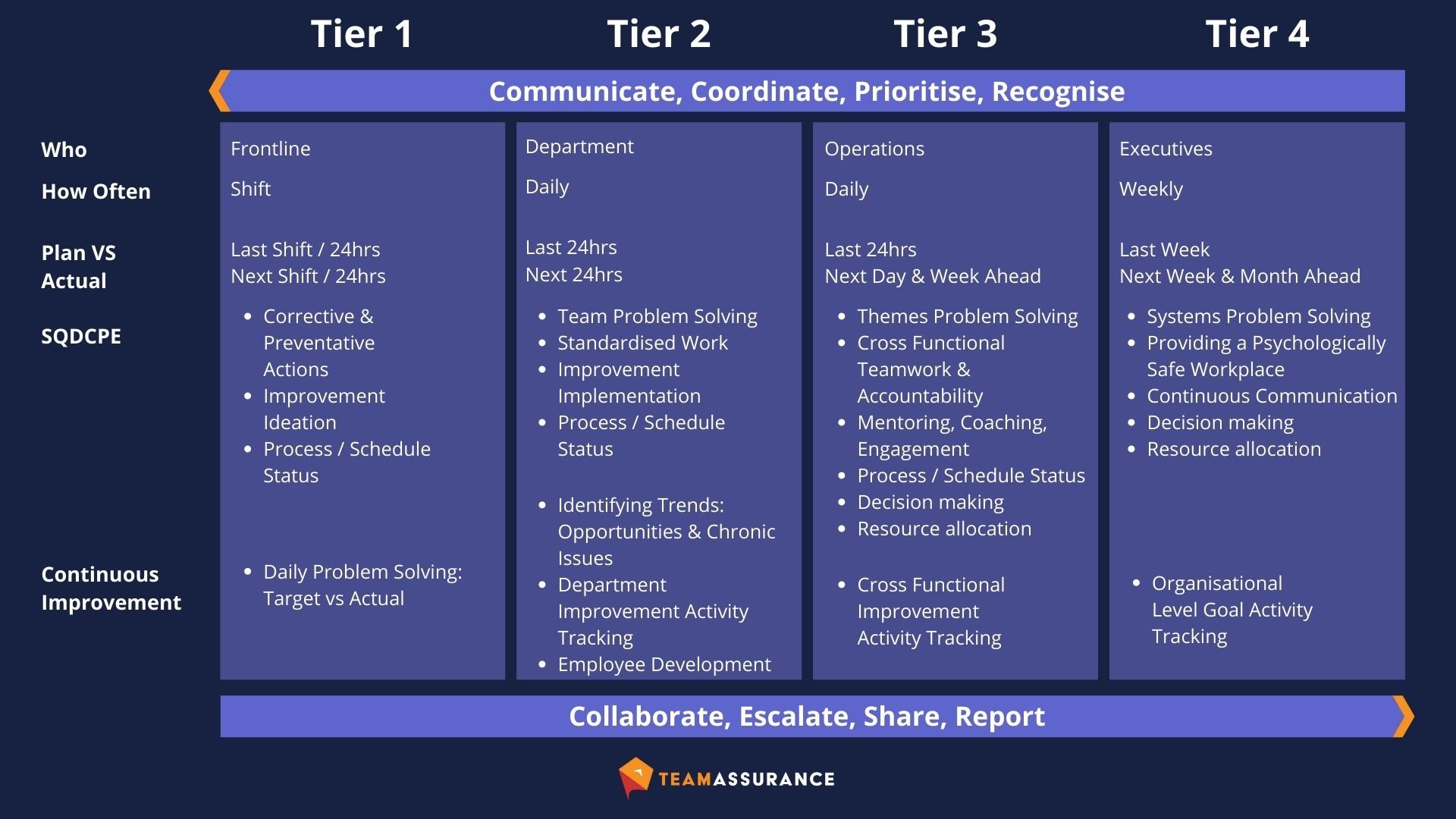 The image above illustrates the typical focus of tier meetings at each level:

Tier 1: Held at the start of each shift, focusing on frustrations, safety and quality issues, and ways to improve the process.
Tier 2: Team leaders from each Tier 1 meeting gather to discuss escalated issues, with representatives from relevant support functions present to assist in resolving these issues.
Tier 3: Managers, area leaders, and support functions meet to address system-wide issues and progress continuous improvement projects.
Tier 4: Executive level meetings focus on both tactical and strategic matters, with responsibilities for running and improving the business.
TeamAssurance CEO, Matt Mafrici, has hosts a webinar series that discusses daily management (and Lean processes) at each tier in depth. You can follow us on LinkedIn to join the next livestream or watch previous episodes on-demand below:
Where to Start With Tier 1 Daily Meetings
Digitising Your Daily Functional (Tier 2) Meetings
Consistency and Routine Are Key For Tier Meetings
These meetings should happen routinely and our teams must be disciplined enough to complete them. The frontline must be completing huddles daily / shiftly and everyone must keep in mind there should be enough time in between for issue escalation or resolution.
The system is designed to ensure each tier is reliant on the other for effectiveness. For instance, if a Tier 1 meeting doesn't happen, it starves Tier 2 of issues to resolve or ability to support.
Implementing tiered meetings begins with finding a location close to where the work is done. The team should stand in a circle around a tier board and discuss the previous day's performance, current difficulties, and plans for the day. Visual management reports provide context to those involved and make these discussions meaningful. The process performance metrics are visible and accessible immediately.
The below image demonstrates daily management meeting at a long time TeamAssurance client: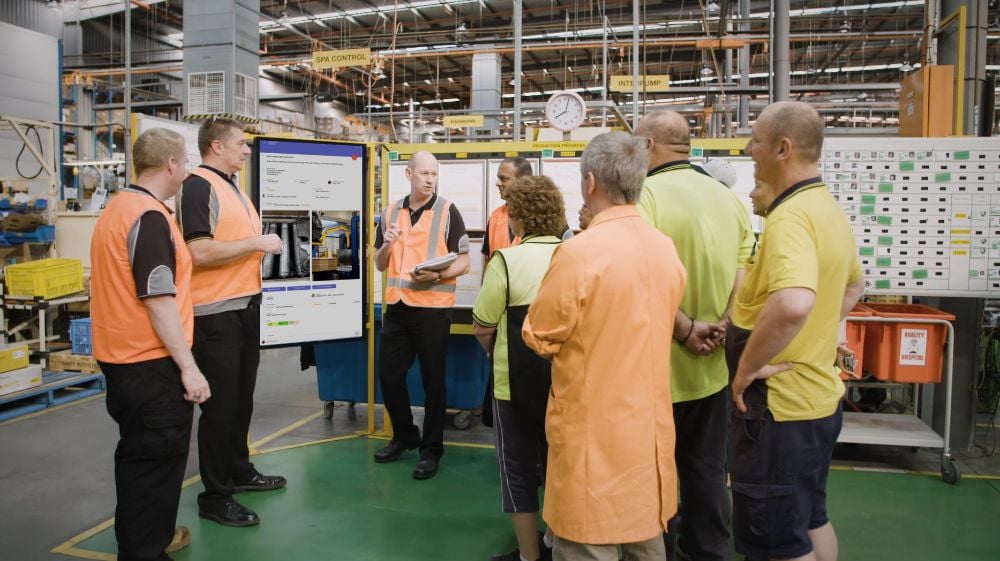 Over time, these meetings will become more efficient, reducing from 30 minutes to around 10-15 minutes, with team members presenting problems they've already solved or developed solid plans for.
The benefits of the tier meeting include:
Improving process standardisation and quality
Providing visibility across planned vs actual performance
Enabling adjustments to meet customer or patient demand
Building a safety culture
Developing problem-solving capabilities and organisational knowledge
Embedding a sustainable continuous improvement framework.
The Tier Meeting is part of a greater C.I. Framework
Daily management meetings enable us to align our people, processes and systems. However, we must remember that it is one part of a greater continuous improvement framework. Other Lean tools like standardised problem solving techniques, Standard Operating Procedures (SOPs), and a Tiered Daily Management process that supports our full PDCA loop are also key to achieving success over both the short and long term.
The image below demonstrates how we built the TeamAssurance platform to avoid locally optimised, disconnected 'Point Solutions' (digital or analog) that can hinder your progress towards the organisation's goals.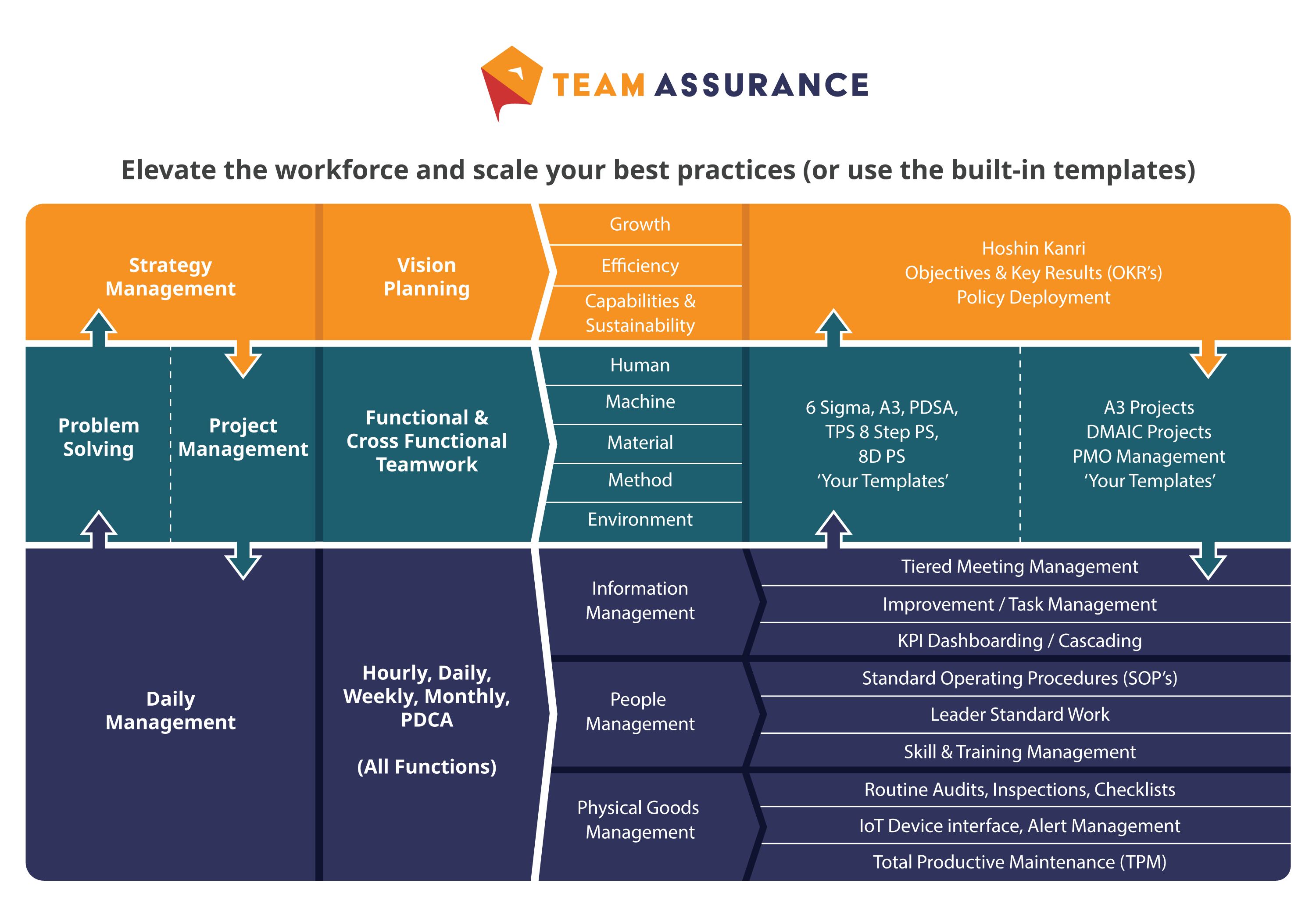 If you're a business in need (or a consultant with clients in need) and you'd like to discuss that digital-aids to Lean tools provide contact us for a demonstration of the TeamAssurance platform today.