Did you know:
32% of workers in Manufacturing and Healthcare were born overseas (predominantly Asian countries)
One third of Australia's top 2000 companies have invested overseas – with an average of 4.5 markets
Australian manufacturing companies have more foreign investments compared to any other sector
Whether it's a frontline team member, an overseas site or a supplier – TeamAssurance is now available to them in their language.
REAL-TIME TRANSLATION
What happens if the frontline operate in one language, and management prefer to use another? No problem. TeamAssurance translates activities in real-time.
Any activity written in English can be immediately read by someone viewing TeamAssurance in Thai (for example). And a comment on that activity can be written in Thai – and it's immediately available to someone viewing the same activity in English.
We're helping overcome the communication barriers, so you can concentrate on continuous improvement. Within teams, between teams and with suppliers – you're all able to 'read from the same page'.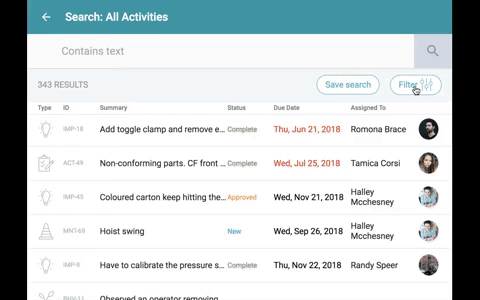 FILTERABLE SEARCH
You're capturing activity data in TeamAssurance as part of your lean daily management system. The value of capturing this data in a digital system is that you can leverage it to work smarter and more efficiently.
Let's say you want to find;
Unverified cost savings from implemented improvements
Outstanding activities tagged with quality, that are urgent or high priority
Incidents without any linked problem-solving activity
While this sort of analysis and review would be difficult using email, spreadsheets, or whiteboards – it's easy with TeamAssurance. Simply configure the filters to see the matching activities.
All Part of a C.I. framework, Not Locally Optimised 'Islands'
Organisations should ensure that the items mentioned above are utilised (and developed) with adjacent processes and systems in mind. Without doing so it is impossible to maintain a quality Tiered Daily Management process that can handle the full PDCA loop and deliver on our continuous improvement objectives.
Leader Standard Work and Daily Huddles must be supported by standardised problem solving techniques, and be able to leverage information contained in your A3 project templates, checklists, goal trees etc. To achieve this we must ensure that no element of our C.I. Framework is optimised in isolation.
The diagram below shows how we designed an interconnected platform that ensures there are no disconnected 'Point Solutions' (digital or analog) that can hinder organisations form achieving their objectives.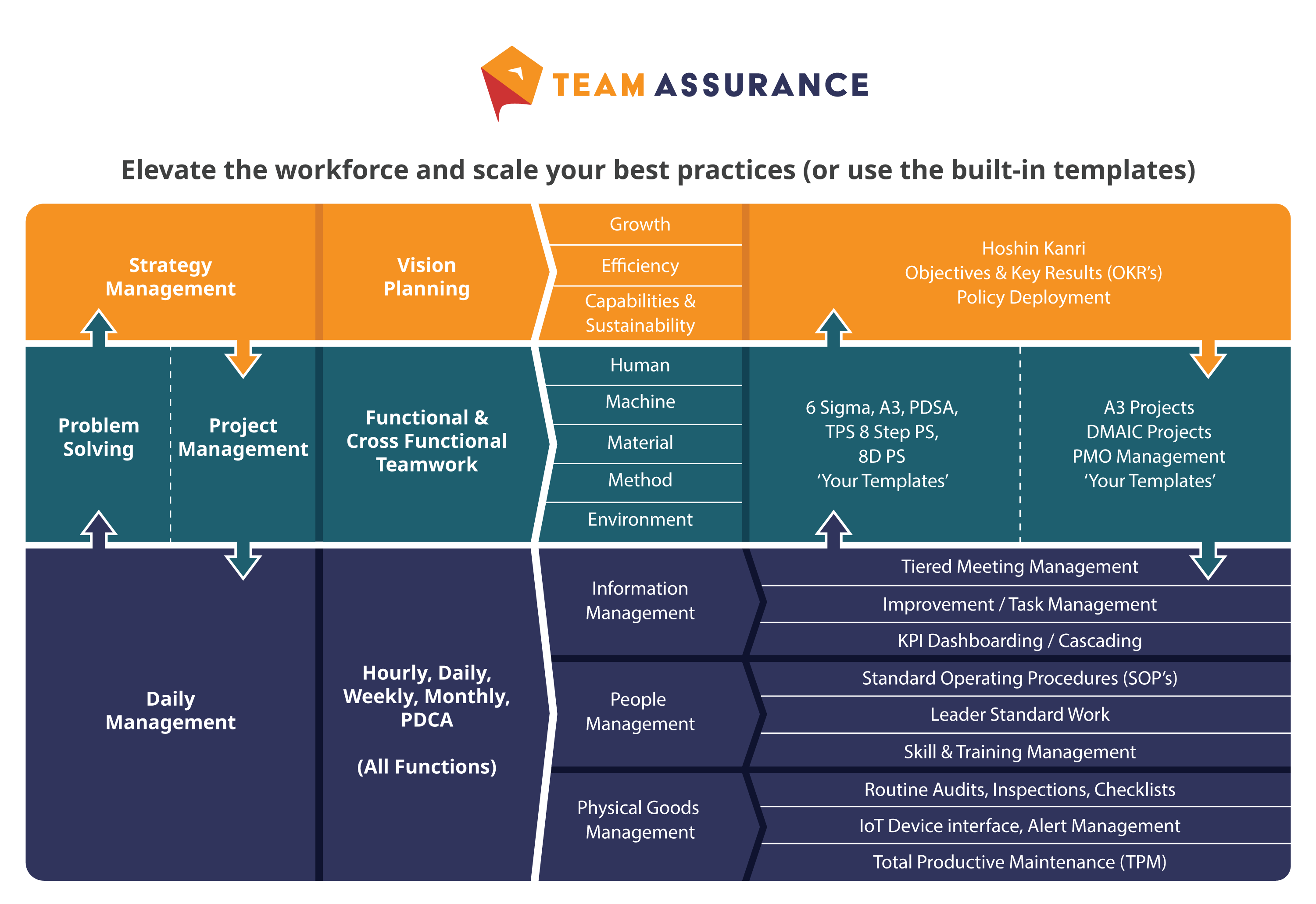 If you are yet to experience our platform and would like to further explore the opportunities that digital-aids to Lean tools provide, contact us for a platform discussion.