Visual management is incredibly important for tiered meetings, daily huddles, and strategy execution in general. Just as important is the flow of this information beyond the huddle.
That's why, in TeamAssurance, teams configure their own tier board. Higher tier boards automatically aggregate data from multiple teams, and from multiple sites in real-time.
Here are a few examples of how information is visualised and circulated beyond the immediate team in the huddle area:
S/Q/D calendar reports
Safety, Quality or Delivery incidents automatically update on these calendar reports. These can be for one team, multiple teams, or a whole site. Each incident only needs to be reported once, and all boards are immediately updated. Useful for functional leaders – like the Head of Safety – to be across all incidents in real time.
Measures
Measure anything and visualise it in a tier board. Enter the information at the frontline, and it's updated in every tier board immediately. There's no double entry. Even better – measures can be automatically aggregated to visualise a summary for higher level tiers.
This makes it easy to compare the same activities from different sites on one chart, to understand where intervention may be required. On a digital kiosk screen or in your pocket on your phone, access the same information wherever you are.
PowerBI and Excel Integration
Bring all the relevant information together by embedding PowerBI and Excel sheets inside a Tier board.
Live action list
Review the burden, and the progress of actions for one team, or multiple teams.
Mirrored tables
One table can be embedded in any number of tier boards, with different columns and rows hidden for each. Numbers can be summed, so that a higher level tier only see the totals – with the ability to review all the contributing data. Enter once, updated everywhere!
Choose The Combination That Works For Your Tiered Meetings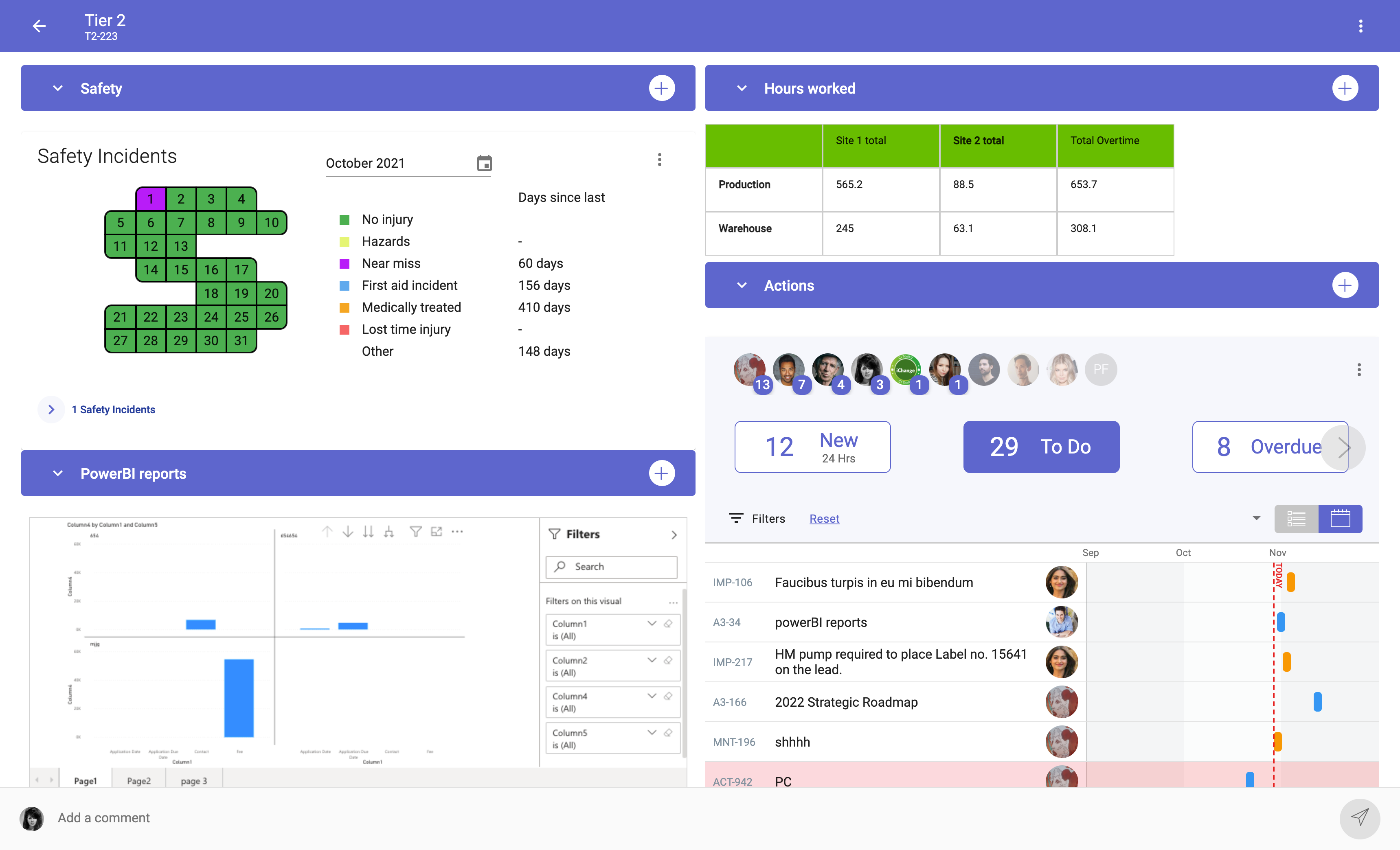 Each team uses various combinations of the aforementioned features to build a tier board that best reflects their needs. The real-time information flow, and the automatic synch to other tier boards, reduces the administration required between tier meetings to almost zero. This allows leaders to visualise issues from across the organisation, and review up-to-the-minute data, without requiring double entry or any other setup. Move the needle on strategy execution and execute at light speed through a tiered meeting approach.
Each tier can focus their efforts on the most pressing issues, and escalate knowing the information is immediately available beyond their huddle area.
---

---
Tiered meetings are part of a C.I. Framework, not a locally optimised 'island'
A Tiered Daily Management process that supports the entire PDCA loop is key to effective, continuous improvement. However, to align all of the people, processes and systems involved we must also consider how all the adjacent processes and systems interact. The Lean tools we discuss regularly like standardised problem solving techniques, Standard Operating Procedures (SOPs), Kamishibai Boards etc. should all be developed together.
The illustration below demonstrates how we designed the interconnected TeamAssurance platform to avoid locally optimised, disconnected 'Point Solutions' (digital or analog) that do not help, and may even hinder your organisation's Lean efforts.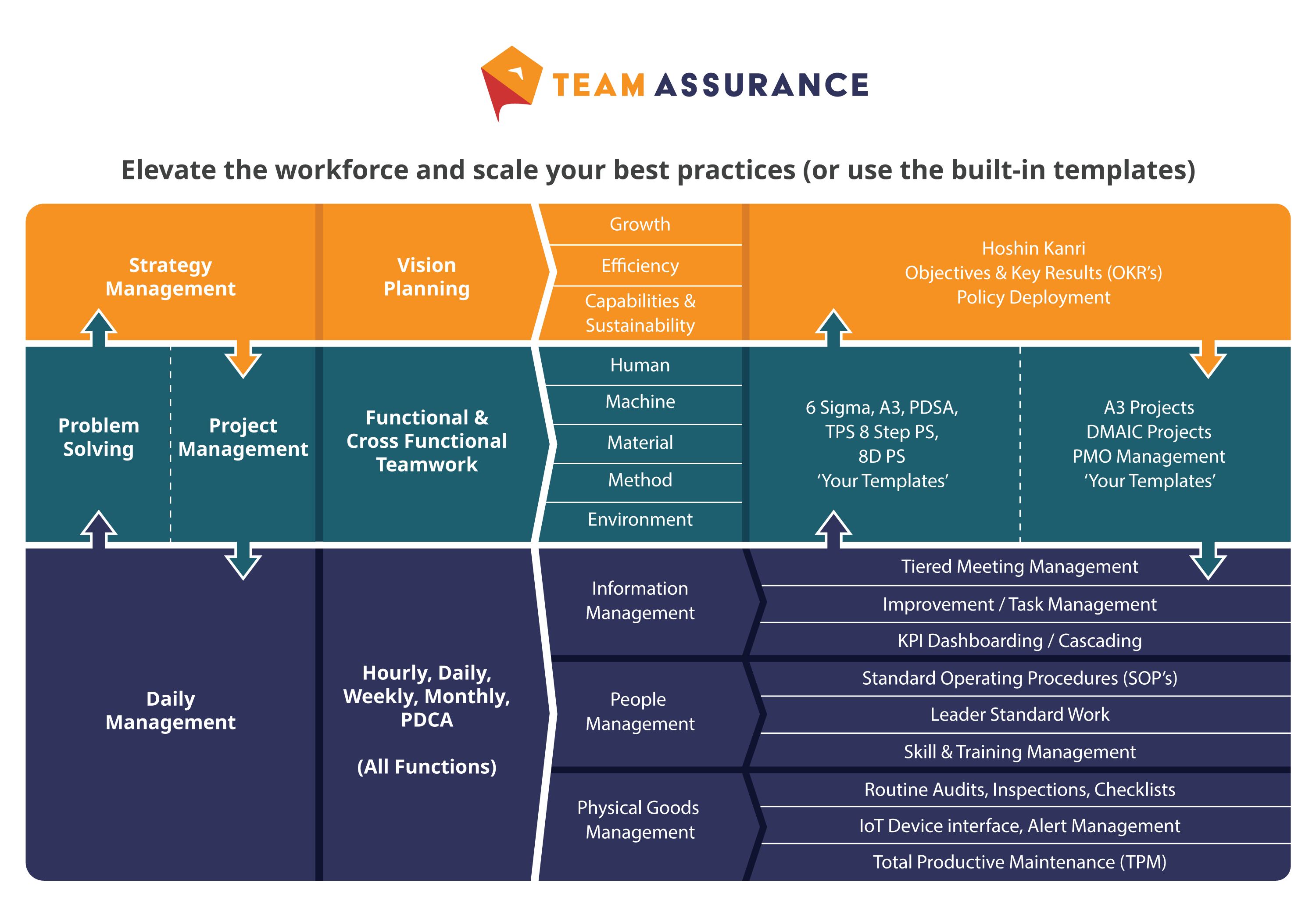 If you're a business in need (or a consultant with clients in need) and you'd like to explore the opportunities that digital-aids to Lean tools provide contact us for a demonstration of the TeamAssurance platform today.