Productivity tips to make toolbox talks a breeze, keep daily tiered meetings tight and focussed, and help keep people on top of their tasks.
Activity Filters
Daily tiered meetings run more effectively when utilising the Activity filters. Quickly view what your team has been doing, what they're overdue on, and what's coming up. Triage and prioritise the most important tasks for your Team using the recently added Priority and Status sub-filters.
You'll never lose track of an action assigned to you, and you'll always have visibility of actions you've raised on others.
Email Notifications
Be immediately notified when an activity is assigned to you. Email notifications include a link to take you directly to the detail of the activity.
You'll also be notified when someone comments on an activity that;
you're assigned to
you raised
you previously commented on
Email notifications can be toggled on/off in your profile view.
Toolbox Talks
With so much rich data being collected, you need a way to contextualise and take advantage of it. We're seeing a wide variety of use cases for Saved Search that achieves this. We've seen saved searches similar to:
Near misses last 30 days
Downtime incidents missing any follow-up
Improvements needing cost savings verified
One customer loves how easy it makes preparing and running a toolbox talk. Previously they needed to come up with a theme, then find the data and package up content before deciding how to present it. Now it is all available at their fingertips. The example we were given was a Safety Toolbox talk. The agenda is to review the last 30 days;
Every Safety incident and the root-cause analysis performed by the team
All Safety behaviour observations and praise for individual team members
Review the current Safety goals and progress
This is taking individual learnings to a business-wide learning, reinforcing good behaviours and driving awareness of business goals and how each individual can contribute.
An interconnected C.I. framework to maximise operations staff potential.
Providing autonomy to operations teams (and in fact, all staff) requires systems that support decision making at every level – supported by the right data and at all times, aligned to strategy. To support individual Mastery requires systems that allow people to freely access the training & know-how they need to better themselves.
To provide individuals and teams with a purpose larger than themselves, they need a communication process that connects them & their toil routinely and specifically to the big picture.
Below we've outlined how we designed an interconnected platform that achieves all of the above. TeamAssurance avoids the locally optimised and disconnected 'Point solutions' (digital or analog) that do not help sustain either lasting business performance or maximising individual employee potential.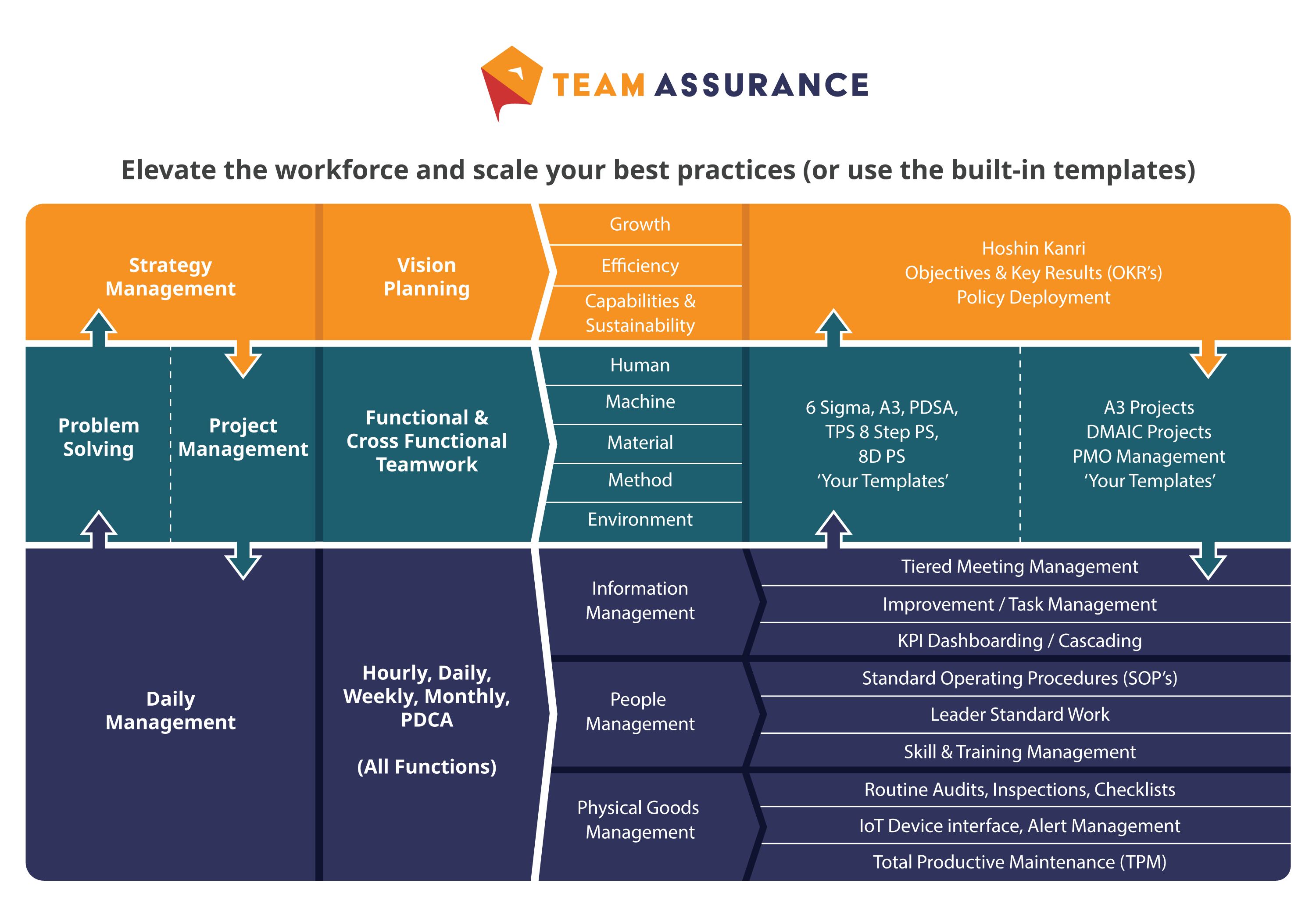 TeamAssurance enables organisations to unlock productivity potential at all levels through an interconnected platform. If you'd like to explore the opportunities offered by digital aids to Lean tools contact us for a demonstration.