As a leader, you have the power to drive change and create a culture of continuous improvement in your organisation. Lean is a powerful tool for achieving this, but it requires a clear vision from leaders to succeed.
Define Where You Want to Go
The first step in driving a successful Lean transformation is to have a clear understanding of where you want to take your organisation. This involves defining a clear vision from leaders that connects people to the bigger picture. A Lean vision is a shared sense of purpose that articulates the benefits and outcomes you want to achieve. It is the starting point for creating a culture of continuous improvement focused on achieving your set outcomes.
This is where Nemawashi (something I've covered in a previous blog) comes into play. In case you don't recall, Nemawashi is a Japanese term referring to the practice of laying the groundwork for change by involving people in the decision-making process.
Nemawashi involves building consensus and trust through a process of dialogue and consultation. It is an essential part of driving successful Lean transformation, as it helps to create buy-in and ownership for change. By involving your people in the decision-making process, you can build trust and a sense of shared responsibility for the success of any plan.
A Clear Vision From Leaders for Strategic Deployment Success
Great strategic outcomes and achieving long term, repeatable success is not a solo endeavour. It requires everyone, at every level, to be clear, committed and actively engaged. Think of it like a team sport.
It is up to the coaching staff to set the course, define expectations and foster a psychologically safe environment. Then all of our people feel comfortable contributing to the development and deployment of the plan (see Hoshin Kanri).
This only happens when there is clear vision from leaders, matched with open communication. Always keep in mind the Lean tenet: respect for people.
Commitment and understanding throughout the organisation will be built through clarity, inclusion and active participation of all stakeholders in the process.
Defining a Compelling Vision
Of course, a clear (and compelling) vision is essential for driving any successful Lean transformation.  It should stem from – and connect – our people's collective intent – but it mustn't be simple a string of various thoughts or ideals. The vision should be concise, and compelling. It should create a sense of urgency, clarity of purpose, and a focus on continuous improvement.
Leaders have a crucial role to play here in taking the collective output of ideas and setting a course. They should seek to inspire and motivate people on a regular basis, and clarity of purpose is key.
Daily management structures play a big part in keeping all of this ticking over. So if you are yet to implement daily huddles or routine meetings at each tier of the business – stop reading now and do it!
---

---
Setting Measurable Goals and Using Visual Management Tools
Once the leadership team has established a clear vision, the next step is to set measurable goals that move everyone towards it.
Using the SMART framework, you can create goals that are Specific, Measurable, Achievable, Relevant, and Time-bound. This framework helps to ensure that goals are realistic and achievable, and that progress can be easily tracked. Using existing data, external research, and once again including all relevant stakeholders, we can set goals that drive us forward and make sense.
Just like our vision it is essential you are able to clearly communicate these goals to the wider organisation (and specific teams) in a routine fashion. If you don't do so, you'll end up with misalignment and, in all likelihood, missed targets.
Visual management tools, such as Tier Boards, safety and quality crosses, and control charts etc. support this daily alignment. When brought into the daily huddle tools make it easy for everyone to understand the goals, progress made, and course correct or access support where/when necessary.
A Clear Vision from Leaders Drives the Whole C.I. Framework
For effective setting and communication of our vision we must ensure that all our systems are focused on alignment of all the people and processes within our business. Lean tools like standardised problem solving techniques, documentation, A3 Templates, and a Tiered Daily Management process that supports the entire PDCA loop are key to achieving success.
The image below demonstrates how the interconnected TeamAssurance platform is designed to avoid locally optimised, disconnected 'Point Solutions' (digital or analog) that do not help, and may even hinder your organisation's strategy setting and deployment goals.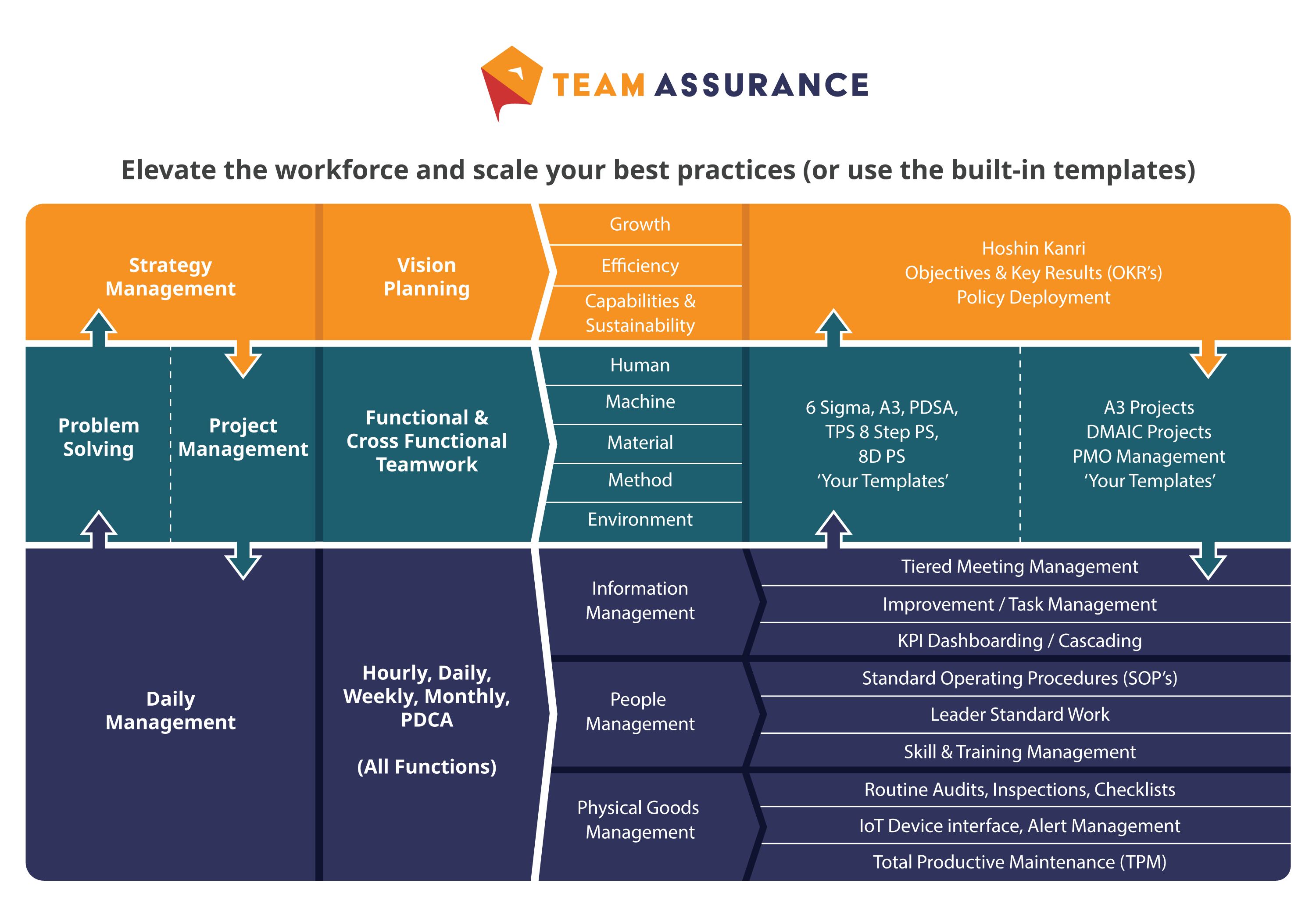 If you're a business in need (or a consultant with clients in need) and you'd like to explore the opportunities that digital-aids to Lean tools provide contact us for a demonstration of the TeamAssurance platform today.